Last Updated 3 months by Emily Standley-Allard
Instagram is tremendous for business! If you don't have a business account set up with Instagram what are you waiting for? With over 800 million active users and growing, businesses would be foolish to ignore it. This social media powerhouse gives you the opportunity to reach a substantial number of people in different areas across the world. Even bloggers and entrepreneurs are flocking to Instagram now. Using Instagram for business marketing can help you build your brand, get more traffic, grow your list of email subscribers and generate sales. Here's 10 ways to improve your Instagram posts instantly.
This post contains affiliate links. If you choose to make a purchase we get a small commission from our trusted partners at no additional cost to you and we thank you. Please read our disclosure for more information.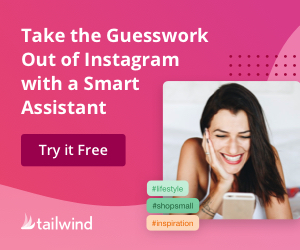 1. Plan multiple posts at a time
More if you're building a brand. I'm horrible at this but for my projects, I stick to a few because it saves room for spontaneous posting but doing this allows you to strengthen the overall aesthetic and stick to a recognizable visual identity and cohesiveness.
2. Keep it Social in Your Instagram Posts
For business marketing, think social, not ads. Create content your target audience will want to interact with, not ignore because it looks too spammy. Show that you like pictures in your niche to get people interested in following you.
The Ultimate Social Sites to Increase Your Traffic
Browse profiles beyond who you follow – Get a feel for what's out there that you don't see everyday. A lot of us tend to follow blogs and brands with similar vibes as us (makes sense), but it's a good idea to keep a pulse on what's trending outside of our scope as well.
3. Know your top-performing posts
Keep abreast of which posts were your top performers and build ideas off of that. You can do a recap at the end of the year and round 'em all up as well. Good to know when planning for the new year.
Watch this vide how to create an Instagram Business Account from a Personal Page if you haven't already!
4. Provide Value
Instagram users are active shoppers who are doing their research, so the more information you can offer them in terms of images, carousels and stories, the better.
Don't tweak and obsess over the perfect feed. Just like in blog design sometimes you can get caught up tinkering over little details that no one really cares about. It's content that matters most and getting it out there. Your competitors are not wasting time, neither should you.
Related Posts
7 Writing Tips for a Killer Instagram Strategy
7 More Ways to Grow Your Instagram
The Rise of The Micro Influencer & How to Become One
How to Use Instagram to Build a Buzz for a New Product Launch in 2023
5. Try Instagram stories
Instagram Stories provide instant information and instant gratification. They only last 24 hours so create a sense of excitement and urgency.
I've been resisting this forever but the other day I decided to post a couple photos to my story and was surprised by the number of views I got. Sometimes this is the way I get the most feedback of all.
Video is the best form of engagement these days so make sure you include that as well.
Especially important if you're selling a product or service, because it's harder that way.
No one wants to read a boring robotic social media post! Just like blog posts, your headlines have to be captivating.
7. Take your own photos
Occasional Insta regrams or posting styled stock photos can be great ways to utilize Instagram if photography isn't your thing, but your feed should never be filled with photos you saved from Pinterest.
Something I'm totally guilty of at times.
After all, this is breaking the Instagram etiquette.
This is an example of a stunning feed from my friend Shirley @housepitalitydesigns in North Carolina:
Her stunning images make every visitor want to learn more about her and her services immediately!
Mastering the Art of Social Media – Scale, Grow and Monetize Your Business!
In the  hashtag post, by the Blog Market they made a special note about utilizing them correctly.
Incorrectly using hashtags, ie posting them to photos that aren't relevant to what the hashtag is for, doesn't serve you because it doesn't reach the audience you want it to.
Many people actively search out specific hashtags, and your images will be there waiting for them. One Instagram study showed that at least one hashtag to all of your posts will create more than 12% engagement on average.
For example, if you post a selfie with the hashtag #blogtips (and the selfie's caption has no tips), you're not reaching people who want to see self-portraits, you're reaching people who like blog tips. Those looking for blog related content will skip right over your photo, so there's no point in doing posting it there. But if you post an actual blog tip, you totally want to use #blogtips, in hopes that other bloggers or those seeking tips will find it! – Resource Blog Market 
Related Post
11 Ways to Use Hashtags on Instagram to Increase Followers
9. Comment often
Engagement is very important on Instagram and you'll get more engagement on your profile if you're engaging yourself comment on things you love or are intrigued by, and you'll in turn grow your own instagram, just like in blog world.
Use a call to action.
Every post should have a call to action that matches your business goal in creating it.
Instagram has a range of buttons such as 'buy now'. And always link back to your site or blog.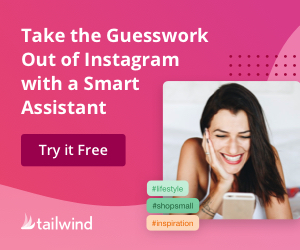 10. Be consistent with posting
I have a bad habit of going from consistently posting or reposting photos 2x a day for a few days, then… nada for the next 3.
If you're not someone who can keep up posting more than once daily, save them so you can spread them out over the week, or at least have a few in your queue for when you simply have nothing to post all week.
It helps a ton, as a dormant account isn't gaining new followers! I use Tailwind which can autopost to Instagram and take the tedious task off your hands.
Your Instagram insights along with a free trial of Tailwind will definitely let you know how well your marketing efforts are paying off!
Share your Instagram strategy in the comments below and follow to build your epic online business!