Last Updated 1 year by Emily Standley-Allard
When I optimize web pages for SEO I'm often asked about 'what are some of the best WordPress SEO tools ' that I recommend. As you know search engines are a major source of traffic for your website on the internet. Optimizing your website for the top search engines like Google can help you rank higher in search results and significantly grow your business. Here are the top 14 WordPress SEO tools that can help your webpages rank higher online.
Things You Need to Know About WordPress SEO Tools
When searching for SEO tips or researching the "best free WordPress SEO plugins", you will come across post that feature a variety of tools.
This can leave you feeling quite overwhelmed and confused about where to begin.
The truth is that you don't need dozens of top SEO tools to get higher search rankings.
This post is to give you an overview of some of the best and most popular SEO plugins so you can make an informed decision about which is right for you.
I'll share which ones I use for my blogs, and which features I look for as well that give me top SEO results.
Let's get started!
Top WordPress SEO Tools to Rank Higher Online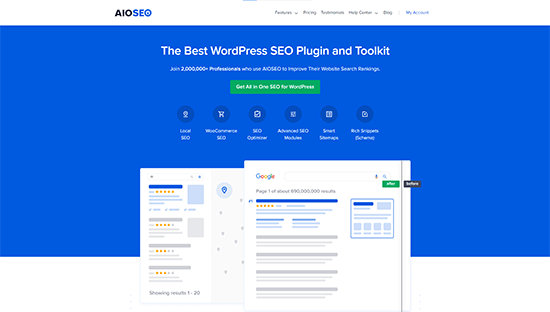 All in One SEO for WordPress (AIOSEO) has a solid reputation for being the best WordPress SEO tool on the market.
According to WPbeginner.com it's used by over 2+ million users.
Why is it so popular? It's comprehensive without being overwhelming. You don't have to learn any complicated SEO coding language, yet it's designed to help you improve search rankings simply.
AIOSEO comes with an easy set up wizard to help you pick the best SEO settings as well as an on-page analysis checklist that allows you to optimize your posts and pages.
They also have what's called a smart meta tag generator where you can input dynamic values in your SEO title and descriptions. This means you don't need to update a post just to change SEO titles.
AIOSEO also comes with Rich snippet schema markup, smart XML sitemaps, SEO health check, and other useful features to grow your search engine visibility.
There is a built-in social media integration to add Open Graph metadata as well.
This means you can choose which image or thumbnail you want to show when your pages are shared on social media websites like Facebook, Twitter, Pinterest, etc.
In less than 10 minutes, you will be able to setup all the advanced WordPress SEO features like XML sitemaps, optimized search appearance, SEO meta title, SEO meta description, SEO keywords, Open Graph SEO Knowledge Panel information, social media integration, SEO search console / webmaster tool connections, local SEO, schema markup, and more.
If you have an eCommerce site, AIOSEO has you covered with advanced built-in WooCommerce SEO tools for further site optimization.
This includes features like dynamic optimizations, individual product page optimizations, product image SEO, and other handy features to bring more organic traffic to your ecommerce store.
For more advanced SEO users, it includes full control of RSS feeds, Robots.txt editor, local SEO, Google News sitemaps, video SEO, and more.
Check out this full list of features:
FULL AIOSEO FEATURE LIST
WordPress SEO Setup Wizard – Properly setup WordPress SEO in less than 10 minutes.
On-page SEO Optimization – optimize SEO code markup (without hiring a developer)
TruSEO score – detailed content & readability analysis to help you optimize your pages for higher SEO rankings.
Smart Meta Title & Description – Automatic SEO generation, dynamic smart tags, and more.
Unlimited SEO Keywords – our SEO content analyzer helps you optimize your pages for unlimited keywords.
XML Sitemap – Advanced SEO sitemaps for your site.
Video SEO Sitemap – Improve your SEO rankings with video sitemap.
News SEO Sitemap – Increase your SEO traffic with Google News sitemap.
RSS SEO Sitemap – Improve SEO crawl frequency with RSS sitemap.
Automatic Image SEO – Our image SEO module helps your images rank higher.
Local Business SEO – Improve your local business SEO presence with our local SEO module.
Rich Snippets Schema – Get better click through rate (CTR) and increase SEO rankings with rich snippets schema.
Knowledge Graph Support – Improve your website's search appearance with SEO Knowledge panel.
Sitelinks Search Box – Helps you get a search box in Google SEO rankings.
Google Site Links – Our SEO markup can help you get sitelinks for your brand.
Robots.txt Editor – Control what SEO robots can see with our easy SEO robots.txt editor.
SEO Audit Checklist – Improve your website's SEO ranking with our SEO audit checklist.
Google Search Console – Connect your WordPress site with Google webmaster tools to see additional SEO insights.
Search Engine Verification Tools – Easily integrate with other popular SEO webmaster tools to improve search visibility.
Google AMP SEO – Improve your mobile SEO rankings with Google AMP SEO.
Advanced SEO Canonical URLs – Prevent duplicate content in SEO with automatic canonical URLs and boost your SEO rankings.
Advanced Robots Meta SEO Settings – granular controls for no index, no follow, no archive, no snippet, max snippet, max video, and more.
RSS Content for SEO – Stop content theft from hurting your SEO rankings with our RSS Content tool.
User Access Control – Control who can manage your SEO settings with our advanced SEO access control.
Competitor Site SEO Analysis – Use our competitor SEO analysis to outrank them by improving your website's SEO optimization.
If you're already a Yoast user and want to switch to AIOSEO you can easily do so with their settings migrator.
If you own a business you can easily manage and assign user access to important SEO features without handing over control of your entire website.
Overall, All in One SEO (AIOSEO) is the most beginner-friendly and comprehensive WordPress SEO plugin on the market.
It eliminates the need to install multiple plugins to do things on your website and works perfectly for all types of websites whether you have a blog, a businesses, an eCommerce site, a news site or any other.
Related Article
How to Add Rich Snippets to WordPress – Plus Plugins!
SEMRush is the best overall all in one SEO/Social media toolkit on the market.
Used by professional SEO experts, marketers, bloggers, and businesses of all sizes, it provides a comprehensive set of tools to grow your traffic.
You can use it to find organic keywords and search terms that you can easily rank for. It also allows you to do competitive research and see which keywords your competitors rank for, and how you can beat them.
SEMRush has an SEO Writing Assistant tool which can help you improve your website content to beat the top 10 results for your focus keyword. It integrates with WordPress, and this will help you write more SEO friendly content.
To learn more, see our complete guide on how to set up an SEO strategy for your website.
I recommend SEMRush because of their stellar reputation, detailed dashboard, competitive intelligence and SEO rank tracker features.
It goes without saying that one of the first things you need to do when setting up your SEO strategy is to sign up with Google Search Console.
Google Search Console is a free tool offered by Google to help website owners monitor and maintain their site's presence in Google search results.
It alerts you when Google is unable to crawl and index pages on your website. It also gives you suggestions on how to fix those crawl errors.
Most importantly, it shows which keywords your website is ranking for, anchor texts, average position, impressions, and more.
You can use this data to find keywords where you can easily rank higher by simply optimizing your content. You can also use this keyword data to come up with new blog post ideas.
Learn more about Google Search Console with helpful videos and more>>>Here.
Tip: I use MonsterInsights to track all my keyword rankings right inside my WordPress admin area without leaving my dashboard.
MonsterInsights, is an incredible insights tool that can help your SEO by revealing what type of content your audience loves, and offers accurate reports.
Yoast SEO is a popular WordPress SEO plugin that allows you to optimize your WordPress website for search engines.
It lets you easily add SEO titles and descriptions to all posts and pages on your website. You can also use it to add Open Graph metadata and social media images to your articles.
Yoast SEO automatically generates an XML sitemap for all your website content which makes it easier for search engines to crawl your website. It also helps you easily import your SEO data if you have been using another SEO plugin.
For more details, see the guide on how to install and setup Yoast SEO plugin in WordPress.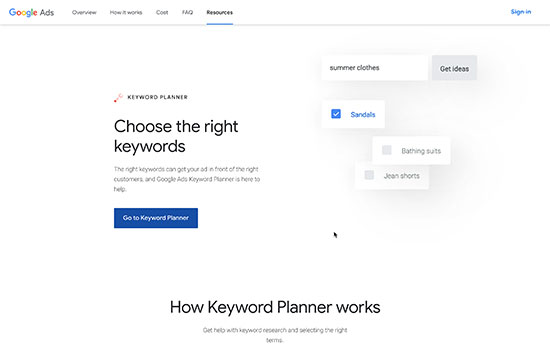 Google Keyword Planner tool helps you generate your own keyword ideas from Google itself.
No one on the planet has more insights into what people are searching for than the search giant Google. This free tool is offered to Google's advertisers for free and anyone can use it. Its main purpose is to show advertisers the keywords they can bid on for their advertising campaigns.
It also helps advertisers choose the right keywords by showing them an estimate of search volume, number of results, and difficulty level.
As a content marketer or blogger, it's vital to find keywords with high search volume, high advertiser interest, and also low competition, where you can easily outrank all other sites.
Bonus: See these 200 Best Blog Post Ideas that your Readers will Love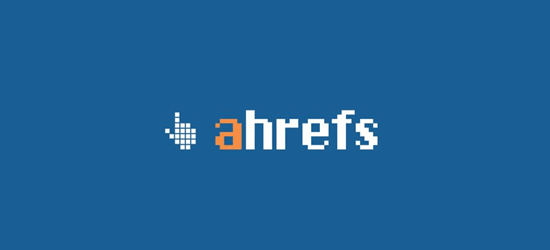 Ahrefs has an excellent reputation as one of top SEO tools for marketers, bloggers, and businesses. It is highly similar to SEMRush so it just depends on which type of dashboard you prefer to work in.
With Ahrefs you can do keyword research, audits, competition analysis, backlink research, monitor keyword rankings, and more.
It also offers a detailed content analysis tool that helps you improve content while targeting specific keywords.
Ahrefs can also help you get more backlinks and build more partnerships. Backlinks are an important ranking factor with Google and you need them to increase your site's authority.
Related 
How to Be the Ultimate SEO Boss
They can also help to identify which content your competitors are ranking for in your industry that you aren't so you can increase your output in that area.
Lastly, Ahrefs offers a wealth of information in terms of understanding SEO and how duplicate content can hurt your site, and what keyword cannibalization and other confusing terms are.
SE Ranking is another simple yet powerful WordPress SEO tool I recommend.
If you're looking for an SEO tool without the hefty price tag as SemRush and Ahrefs, SE Ranking has all the features you would expect from an SEO tool like the ability to do audits, do accurate keyword research, page change monitoring, backlink checkers, competitor research and more.
They even offer a demo and a free 14-day trial with no cc required, as well as a mobile app allowing you to track your rank levels on the go.
Along with the rankings, you can track SERP features, paid rankings in Google AdWords, search volume and a relative traffic forecast.
Their clean dashboard design makes everything accessible. You can even manage and analyze your social accounts.
Rank Math takes the guesswork out of optimizing your website for search engines and social media.
Rank Math is a popular and user-friendly WordPress SEO plugin that allows you to save hours of repetition. It comes with a setup wizard and recommends the ideal settings for best SEO performance.
With its clean and simple interface, you can use it to easily add content to improve how your website appears in search with Structured Data.
The plugin also allows you to generate an XML sitemap, connect Google Search Console, easily customize important SEO settings, control which pages are indexable, assign users, and much more.
Note: Rank Math is an AIOSEO plugin alternative. Remember, you only need to download one WordPress SEO plugin on your site.
Screaming Frog SEO Spider is an industry leader in SEO tools. It can literally crawl all your links, images, apps, scripts and CSS allowing you to extract data and audit for common SEO issues.
It's quite detailed (to say the very least) and it may be a bit overwhelming for someone just learning SEO.
It does everything from allowing you to view broken links, crawling for duplicate pages, viewing external links, missing meta tags, alt tags, page speed, H tags, redirect chains, anchor links, uncovering Java script errors, even checks for spelling and grammar in over 25 languages!
If you're an intermediate or advanced WordPress SEO tool user I definitely recommend Screaming Frog SEO Spider as a tool you need to put in your SEO arsenal of must haves!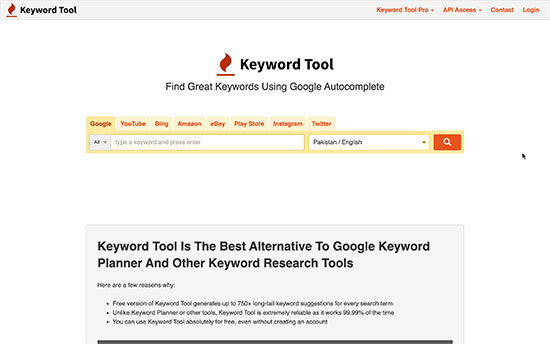 KeywordTool.io is one of the best free keyword research tools available right now.
Every search query is an expression of people's needs, wants, interests and desires. Imagine how your business would benefit if you could analyze search trends on Google, find search terms that are related to your business domain and customize content on your website to serve the actual needs of your customers.
This Keyword Tool uses Google Autocomplete that will help you discover thousands of new long-tail keywords related to any topic by automatically generating Google's search suggestions. The keyword suggestions will be produced based on a Google domain and language that you choose.
If you don't have a tool like SemRush or Ahrefs, a WordPress SEO tool or plugin like Redirection can help you set up SEO friendly redirects in WordPress.
Broken links affect your website's SEO ratings and create a bad experience for your audience.
If you've been running a blog or website for some time now you should definitely check your site for broken links by doing an SEO audit and fix them asap.
Redirection can help you easily fix 404 errors and manage the 301 redirects on your site.
With Redirection, you don't need a web developer or any knowledge of Apache or Nginx to complete these tasks.
You can configure the plugin to automatically create a redirect when the permalink of a post or page is changed or when other conditions are met.
It's important to fix broken links by removing them or redirecting them to correct links so Google doesn't devalue your site.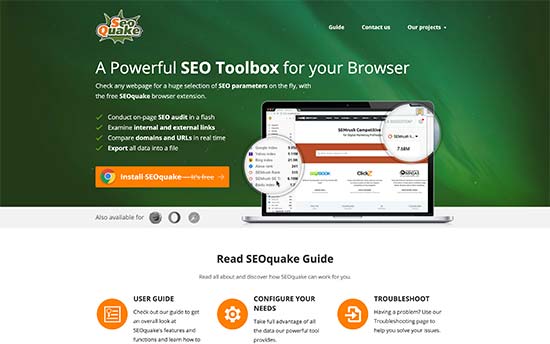 SEOQuake is a useful SEO tool that lets you analyze a huge set of parameters for your website.
It is currently compatible with Mozilla Firefox, Google Chrome and Opera. SEOquake can provide parameters for listings within search engine results.
It provides an instant SEO summary for any website. This data includes page health, age, links, keyword analysis, last updated, Alexa rank, and many other parameters.
They have a nifty SEOquake toolbar where you can navigate to any landing page and receive analytical data specific to that landing page at the click of a button.
This information can be extremely useful if you are gauging competition for different keywords. You can even download search results in CSV format and print out your own excel sheets to review at a later date.
Bonus Tools to Optimize Your WordPress SEO
These tools give you an extra edge when optimizing your website for SEO.
They are not SEO tools per say, but they are essential for every website because they play a significant role in how your website shows up in the SERPs.
Related 
11 Website Essentials You Can't Afford to Ignore
Get a FREE SEO Audit Tool Embedded on Your Website 
This plugin improves the SEO and user experience of your site by increasing website performance and reducing load times by leveraging features like content delivery network (CDN) integration and the latest best practices. Site speed is a major factor in search rankings.
That's why you need to monitor your website speed & performance to make sure it's not affecting your SEO.
The easiest way to boost your website speed is by enabling caching.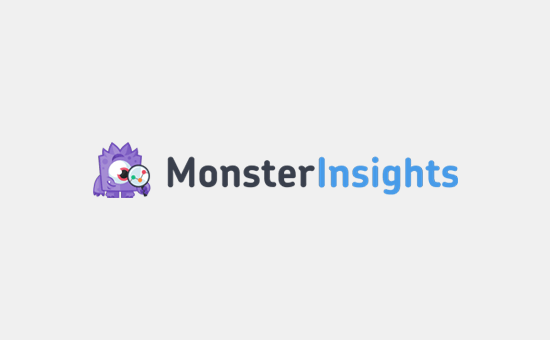 Many beginners make the mistake of not looking at data to make their next moves.
This can harm you in the long term because you may not be creating what your audience is really looking for.
I use MonsterInsights which is a Google Analytics plugin for WordPress. It allows you to easily install Google Analytics in WordPress and shows readable reports right inside your WordPress dashboard.
It tells you where your users are coming from, your top content, what users do on your website, and more. It also allows you to track your eCommerce SEO by seeing which products are popular and where you are losing customers.
Bonus tip: See what other marketing data you must track on your website to grow your business.
Other Powerful Growth Tools:
Aside from the above plugins, we also recommend the following tools to increase your traffic and conversions from SEO visitors:
SendPulse – connect and engage with SEO visitors after they leave your website with web push notifications.
My Site Auditor – Provides you with an SEO audit form, embed kit, link analysis and white label SEO reports
OptinMonster – convert abandoning visitors into email subscribers & customers.
ConvertKit – stay in touch with SEO visitors through powerful email marketing.
WPForms – get more leads from your SEO traffic with #1 WordPress form builder.
Elementor – create SEO friendly custom landing pages with drag & drop WordPress page builder (no coding needed).
We hope this article helped you find the best WordPress SEO plugins and tools for your website.
Want to dive deeper into SEO? Check out our proven tips to help increase your website traffic and learn what it takes to rank higher in Google with the Ultimate SEO Boss course.
If you liked this article, then please subscribe to our newsletter today!