Ultimate SEO for Beginners
When you write online whether professionally or personally it's vital your articles show up high in the search engine rankings. You can write the most amazing, earth shattering content in the history of the world but if no one can find it what use is it to you? A higher ranking by Google means more business and income (also known as conversions). SEO is the is the process of affecting the visibility of a website or a web page in a search engine's unpaid results—often referred to as "natural," "organic," or "earned" results. The following SEO Guide for beginners will show you all the ways you can rank higher in Google with no technical skills whatsoever. 
Google provides information that is BEST for the user who is searching for it. In order to be found in the top ten spots of the first page in Google (which is where you need to be), your articles and posts MUST be optimized correctly for Google to read them properly or your website or blog will get lost in cyberspace and who wants that? All your hard work and no one will see it! This post will explain how to prevent that from happening.
What's Your SEO Score?
Enter the URL of any landing page or blog article and see how optimized it is for one keyword or phrase..
There are all sorts of ways to make money from a blog or website. You could sell ads, services, products, write sponsored content or work with content partners. You could create an online shop or use affiliate links to send your readers to someone else's online shop. You could even create a membership site, where readers need to pay to view your content.
However, none of those strategies are going to work if you don't have a consistent flow of people coming to your site.
That's why the first step in making money from your blog or website is building an audience.
That's why SEO is your lifeline and so vital to your success. People won't take the time to search for you. You need to make it easy for them to find you. 
SEO is complex but even a small amount can do wonders for your rankings.
This beginner tutorial will show you step by step exactly what to do to make sure your posts are search engine optimized for Google, Yahoo & Bing correctly. 
Related Posts
The Ultimate Guide to SEO Copywriting for Affiliate Marketing
5 Niche Blogging Strategies to Help Your SEO
5 Deadly SEO Mistakes To Avoid
This post contains affiliate links. If you make a purchase we will receive a commission at no additional cost to you and we thank you. Please read our disclosure for more details.
Simple SEO For Beginners
Step 1. Install an SEO Plugin
I have a WordPress site (not wordpress.com but wordpress.org – self hosted site which allows you to monetize) and I love the Yoast SEO plug in. It is very beneficial for all your SEO needs because it works to create SEO friendly content like adding canonical tags, noindex tags and sitemaps automatically for you.
Why You Want a WordPress.org Site
If you don't happen to use WordPress you can manually do it yourself, but it does take time and effort. However, most sites these days like WP, Squarespace, Wix, Weebly, Webflow and others have a plug in or other automatic built in SEO.
To install the plugin on WP, go to Plugins and Add New. Next install and activate the 'Yoast SEO' Plugin.
Here is an example of the Yoast analysis and recommendations it makes for you.
Step 2. Determine Your Keywords
Before you begin writing your blog or website post/articles, you need to determine what your keyword(s) or phrase(s) will be.
I use the Jaaxy Keyword Planner, the Hoth , & SEMrush to do my keyword research.
For the Google tool you need to have an AdWords account to use the keyword planner which is FREE.
It's very important to understand the terms that people use when they search, and more importantly the intent behind them.
Choose your keyword before you start writing. Say for example your keyword is 'blogging'. Research your keyword with the tool and it will bring up the average monthly searches for the word and competition level and other detailed stats.
Note – You should always write like you're talking to people and not to a machine. 
Use longtail keywords. Longtail keywords are words that contain 3-4 words specific to what you are writing about. i.e. blog post ideas, make money blogging, social media for beginners.
Be specific with your long tail keywords. A phrase like 'internet marketing' or 'shopping' or 'health' is much too general and has way too much competition for you to rank.
Make sure you find keywords that are popular and searched for, but the number of competing websites is low. Not so easy as it sounds, which is why an excellent keyword research tool created for marketers like Jaaxy is so important.
More Articles
Don't Be a Victim of Amateur SEO
12 Social Media Mistakes Entrepreneurs Make
Beginners Guide to Social Media
Step 3. Use Keywords in Your Title Tag
1. Post a compelling title tag with your keyword in it. Your Title Tag is also called your H1 tag.
Including keywords in the title tag is important, but it is not enough to get you to rank high. Search engines now weigh in the click-through rate or CTR, (The Click-through rate is the ratio of users who click on a specific link to the number of total users who view a page, email, or advertisement) – as well when determining rankings, so an attractive and compelling title will get more people to click on your page.
You can use a 'catchy' title in your post and an SEO friendly optimized one in the Yoast SEO plugin.
A great thing about the Yoast is that the plugin will check to see how many times you've used the target keyword in the text of your post and give you that number.
If the number is green, you've done a good job and you can move on to the next task. If the number is red, go back and add your target keyword to the main body of your post a few additional times until Yoast gives you the "green light."
Add A Meta Description
Your meta description should be a short compelling description of your post, and it should always include your keywords.
The content of the meta description is not used by search engines as a ranking signal.
However always include your keywords in it because it can help raise your CTR.
This tiny snippet of text may appear in the search engine results under your headline, but sometimes search engines will grab a piece of the text from the main body of your copy instead.
Your meta description should be up to 275 characters long.
Fix Broken Links, Errors and Crawl Problems
The larger your site the more important this is. Broken links, errors and crawl errors make it harder for search engines to fine our content, index it and drive traffic to it.
As search engines get smarter, they promote pages in their results that users will like. Broken links make for a bad user experience. So, a page with lots of broken links is more likely to be devalued in the eyes of a search engine such as Google. Google's guidelines even state that webmasters should check for broken links and repair as needed.
A 301 redirect is the most SEO friendly way to redirect broken links according to SEO specialist Bruce Clay. The 301 lets a search engine know that a page has moved to another location. This passes the SEO properties of the old page to the new page you're redirecting to. To put a 301 redirect in place, you need access to the .HTACCESS file on your website server. This only works for links pointing to pages on your site that have moved locations.
If you're running your blog on WordPress.org you can use a 301 redirect plugin to make things easier or contact your favorite WP developer to help you out.
Step 4. Use H2 (Heading 2) Tags
In WordPress, there are six H tags or Header tags (H1-H6) available.
H1 tags are the Post titles and H2 are the subtitles. They tell the search engines what your content is about.
After the search engine crawlers (or bots) crawl your page for H1 tags they then look for H2 tags, H3 etc.
Google also likes H2 tags 🙂
Step 5. Give Your Images A Title and Alt Text
Search engines 'see' images through text. When you upload an images to your site make sure you name every image and add an alt text. An alt text is a word or phrase that tells Web site viewers the nature or contents of an image. When a visitor to your site hovers over the image, the alt text appears in a blank box that would normally contain the image.
Assign all your images descriptive names, not what the computer assigns it. Remember, computers cannot read or 'see' images – only text.
WordPress makes it easy – once you upload an image, you just fill in the Caption, Alt Text and Description boxes.
Step 6. Interlink Your Content
Interlinking is when you link content contained in your blog post from other posts within your site.
You should always be interlinking your content because Google looks at the language used in the hyperlink itself. By including internal links with text that is relevant to the pages, and including your keywords, you're indicating what the content being linked is about. A Win/Win for SEO!
How to Interlink
When writing your blog post, if you have any relevant links from past blog posts, go ahead and place those links in your post.
For example, have a heading like, 'Related Articles', 'You May Also Be Interested In', 'For more blogging tips be sure to check out my post' etc…
Related Posts
How to Get More Backlinks to Rank Higher On Google
Link 2, 4, or 6 related articles.
There are related posts plugins, but I've heard they can negatively affect your search engine ranking. If you place it in manually it's better for SEO, you control the content and you can bring more attention to it by placing it at the bottom of your post.
Step 7. Check Your Permalink
A permalink is a permanent link to your blog post or page. If you don't use the permalink you'll be linking just to your main blog/site page. 
Don't change the permalink on a published post because then your users will wind up at a 404 error page.
If you ever decide to change the permalink to a published post, make sure to set up a 301 redirect from the old link to the new link. There's even a 301 redirect plugin for this on WP.
8. Use Synonyms in Your Copy but No Duplicate Content
As search engines gain a more complex understanding of human language, content creators are able to utilize more natural language and still stay relevant to the keywords they try to rank for. Using natural language and synonyms that's influenced by keyword research is highly encouraged.
This is also known as LSI or Latent Semantic Indexing.
Resource: What synonyms mean for SEO https://moz.com/ugc/what-synonyms-mean-for-seo
Duplicate content can dilute the value of your content among several URLs. Google Webmaster Tools can fix any duplicate content that might be indexing and penalizing your site.
9. Claim Your Brand on Social Networking Sites
For reputation management, not only do you want to make sure no one else gets your account name, but you can often own all the results on the first page of a search for your brand if you're a new website or company.
Source: https://namechk.com
10. Make Sure Your Site/Blog is Mobile Friendly
More and more traffic is coming from mobile devices, having a site that is not responsive to different screen sizes and shapes will negatively impact user usability, especially for local searches.
Google will knock off points if your site isn't mobile friendly!
Make sure that the content of your page can be viewed easily and the site can be navigated easily as well.
Check Your Site Speed
No one likes a slow website! Check your site speed using this free tool. 
Or simply sign into your Google Analytics report, navigate to your view, open 'reports' and select 'Behavior'>Site Speed.
Get all the SEO tips you need without technical skills here:
11: Write Longer Posts
Search engines penalize short posts – less than 300 words. Google and other search engines prefer longer articles between 1500-3000 words. Depending upon the subject matter a business 'how to' article should be in the range of 4,000 words.
In blogging, write in an easy to read manner almost like you're having an easy conversation with someone. Naturally if it's a technical article everything has to be researched, precise and exact which goes without saying…
Skyscraper content has become popular now with posts of up to 8,000 words. That's a bit much for me to read and I don't have the time but it certainly helps with ranking!
Quality ranks above quantity. Your blog post can be that long but an article that is shorter and contains more valuable, meaningful content will rank higher. It all depends.
12. Push Posts Out to Social Media
Once your post is written and optimized it's crucial that it's shared with your social media platforms.
If people share your article, it means they think other people should see it and that's pretty much the whole point of being online – pointing people, customers, readers in the direction you want them to go.
Google and other search engines are more likely to commit to your page after others have shared it.
Social media will start that conversation, so others can recommend your post…and so on and so on…just like that old shampoo commercial. Okay, so I'm dating myself here:)
Engage comments and posts quickly and remember not to only post about your business but about others posts as well. Sharing is caring! The more traffic you bring in from other relevant sites the more Google recognizes that as well.
How to Create an Epic Social Media Marketing Strategy
13. Sign up for Google Search Console
Google adds new sites to their index every time they crawl the web. If you have a new website make sure you add it under the Webmaster tools. It's Free and something you must do if you want to show up on the www!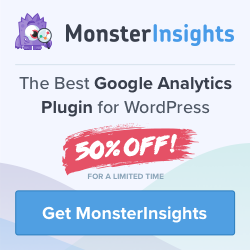 14. Fix broken links pointing to your site
If there are broken links pointing to 404 pages on your site, then you are losing valuable link juice.
Here's how to do it with Ahrefs and a free wordpress plugin called Redirection.
Step 1: Run the 'broken backlinks' report in Ahrefs Site Explorer to get a list of all broken backlinks.
Closing SEO Tips
It may seem overwhelming at first to perform proper SEO but with the right plug ins they will prompt you, letting you know the next step in what you need in order to have a properly optimized website or blog.
Remember, SEO is always an ongoing task; the algorithms quite quirky, complex and ever changing –  but there are many SEO auditing tools that can help with this process for you.
Bonus Helpful SEO Tips
Create a Click to Tweet Link 
One of the very best things you can do to promote your site is to reach out to other bloggers in your niche. 
Related Posts
Why Your Blog Needs Guest Posts
Promote Other Bloggers to Increase Your Traffic
Send them a friendly/non pushy email letting them know you've mentioned them in a post/article with a link to it. Don't ask them to share it – if they think it's good they will 🙂 Do this for 20 minutes a day and your traffic will definitely see a spike!
SEO Recap:
To optimize your content for search engines, and get the customers/readers you need – you must improve your site's search engine optimization. Ranking in the first page of a search engine results page (SERP) can bring literally millions of people to your website. You can then use that traffic to sell ads, write sponsored posts, create a thriving online store and make a living online. 
To optimize your content, you need to first understand that SEO starts with the construction of your website. Work with a developer or research what Google and other search engines expect from your website, then do what you can to make sure they get it. Focus on making your website is as fast as it can be. Over time, you should try to build up your authority on topics that are essential to your website.
Next, you need to write a post that targets a specific keyword or search term. Make sure you use that keyword in the headline, as well as throughout the article. You should use related links and internal links that reference your website and inform Google what the article is about. At the same time, make sure you are writing something that informs the reader and doesn't just target Google's algorithm.
Last, you need to create an online conversation about your piece through social media. Use partnerships as well as your own platforms to create a buzz around your website that even Google can't ignore.
**Things to keep in mind: It takes time! After 6-12 months realistically you will start getting found in the search engines on a regular basis and you'll see more traffic coming in.
Interestingly most bloggers quit around 6 months so don't let this be you! SEO is not a difficult alchemy that is mysterious and elusive. Anyone can learn it! 
The results of your efforts will start to accumulate and you'll see more visitors and subscribers to your site. Just keep offering more valuable content for your readers, build trust and solve problems!
To Put Your SEO on Auto Pilot Go HERE
More Advanced SEO Tips 
5 Ways You're Killing Your Social Media Campaigns
How to Get More Traffic With a Content Gap Analysis
For a complete picture on why your website or blog is not ranking well in the SERPs order an SEO Audit this will reveal any missing pieces as well as offer you a strategy on how to improve your ranking in Google faster.
Remember, your website can look shiny and beautiful from the outside but it's the inner workings that make it worth coming back to time and time again:)
If you can do the majority of these things, you can create some top-ranking posts articles and put the power of Google in the palm of your hand.