Start a Lucrative Career as an Online Social Media Manager in a Month or Less!
Although I've been in digital marketing for 14 years I actually come from an arts background. Life is full of twists and turns as we well know it and one never knows where your path will take you. Social media management was a natural fit for me being an introvert at heart, having a love of design and aesthetics and finding new and engaging ways to connect with people and businesses from all over the globe, from the comfort of my home and that provides me with a full-time and potentially unlimited income.  
In recent years smart businesses large and small have embraced social media marketing. They've recognized the value of building online communities to engage and directly connect with their customers and prospects through social media and this has produced positive results. 
The appealing fact is that you can be a social media manager from home (or anywhere) and yet engage and work with many different people. You're not limited to an office, and your clients don't have to be in your immediate demographic. 
This post contains affiliate links. If you choose to make a purchase we will receive a small commission at no additional cost to you, which helps keep our blog running and we thank you. Please read our disclosure for more details.
Why Businesses Need Social Media Management 
Over 90% of marketers use social media to attract new business, but less than 15% are confident in their execution. Plus, they don't have the time to set up their social accounts and manage them properly! That has opened a huge market for interested freelancers.
Everyone from bloggers and entrepreneurs, start-ups to small, medium and large sized businesses and brands are looking for social media managers.
On any given day a social media manager may be responsible for setting the strategy for an upcoming product launch, creating vital content, analyzing data, running paid advertisements and coordinating messaging with PR & communications. Basically being the voice for a company. 
And, even better news, a formal degree is rarely required to be a social media manager from home.
Related Posts
How to Create Your Epic Online Business
How to Identify Legitimate Work From Home Opportunities
10 Profitable Home Based Business Opportunities
12 Most Profitable Digital Products to Sell Online
Proven Ways to Make $2,000-5,000 Extra From Home
How to Create an Epic Social Media Strategy for Your New Website
100 Reasons To Hire A Freelancer to Outsource Your Work
How to Successfully Make & Sell Printables On Etsy
Social Media Management is a Highly Sought After Skill
Many companies are desperately looking for help with social media and always will be. Digital engagement is only growing in popularity. Companies simply don't have the time to stay on top of all the newest changes and latest digital social developments and the latest algorithms sprouting up constantly.
They're too busy running the day to day operations of their own businesses.
This is where you come in. Your job as a social media manager is to be knowledgeable about all the different platforms that help business' grow; to be the liaison between brand and audience and help develop a loyal following, and be an engaging presence with the ultimate goal of turning viewers into longtime customers.
Grab this free social template calendar from our partners @ Hubspot: 
FREE SOCIAL MEDIA CONTENT CALENDAR TEMPLATE
Related Posts
10 Secrets to Drastically Improve Your Instagram Traffic
The Importance of Branding Your Small Business and Blog
The Successful Social Media Consultant's Checklist
How to Leverage Social Media for Your Business Massively
How Much Does a Social Media Manager Make?
Social media management is a very worthwhile career investment because it's something that you can get started doing with a very minimal investment.
Yet, you have the potential to make a fantastic return. 
Social Media managers start earning between $25-$75 per hour depending upon where you live. Of course the more experience and expertise you have the more you'll be able to charge.
Because of the wide range of skills and tasks that a social media manager may employ, salary ranges from around $22,000 per year to over $115,000 per year – Salary.com 
Being your own boss, the choice is really up to you how often you want to work, how many clients you wish to take on and what you will eventually earn. 
Depending upon your financial and/or current working situation, whether you have young children or not, you may decide to work as a freelancer or even open up your own full-time business.
The opportunities are quite endless. 
Social Media Management is Flexible
The other wonderful thing about being a social media manager is that you can literally do it from anywhere.
Heck, when I was a social media manager I scheduled out posts months in advance if I needed to. Around my schedule. 
With advanced auto-posting capability, this freed me up to have more time to get more clients!
And if I needed to make any tweaks or add anything to a client's post I was able to easily do so with the amazing social media software available. 
This is an example of one program I used and still use to this day. 
Another popular auto posting program I love is SEMrush.
They can keep track of all your analytics, how every post and campaign is performing, even what keywords your client's competitors are using!
Semrush is truly an all-in-one marketing toolkit I highly recommend to get a leg up on traffic for any online professional. 
Enter your domain in the box to see how your social media campaigns are performing right now, for FREE! 
Very basically social media managers help businesses with managing their social media accounts, growing their online footprint and other types of social media marketing.
Most businesses see social media as a way to directly drive traffic to their website and force people to buy their products or use their services in pushy, salesy ways. 
Social media managers know that this is wrong.
They understand that real people use social media to build engagement with others. 
Hence, they run marketing strategies that are focused on building positive relationships with these people.
Managers turn the spotlight on the 'social' in social media by creating & sharing content and asking & answering questions. This helps build a loyal fan base.
These loyal fans return the favor by buying from the company again and again and get their friends to do the same.
All this isn't done randomly, but with the implementation of a detailed strategy.
Here are the most popular social media marketing services offered by managers…
Social media account set up:
In social media as in life, the first impression matters a lot.
The best way to make a strong first impression here is by creating professional looking pages.
Businesses understand this.
How many times have you come across a completely amateur pathetic looking social media page and left it immediately! I know if I come across a page like this it leaves me with a really poor impression of the company behind it. 
This is why they hire social media managers to help them out.
If people like how the page appears and it contains valuable information, they are more likely to follow them, read what they post, share and visit the website address located on the account.
That is the main goal after all. 
Scheduling social media updates

Sourcing viral content for sharing
Community growth & outreach

Responding to customer service issues

Providing analytics (most social platforms have this built-in)

Creating social media images

Setting up profiles

Providing optimal keywords 

Sharing popular posts and information on special offerings, discounts, seasonal events on a regular basis

Paid advertising
Skills to Be a Social Media Manager
Most freelance Social Media Managers are not formally training. I've never once been asked if I have a 'degree' in social media management. 
That doesn't mean you don't need some skills:
Grammar – Misspellings and grammar mistakes look unprofessional so you either need to improve your technique or use a great program and apps like Grammarly.com and Hemingway to help. In today's modern world it's simple to manage this. 
Time management – This is very important since successful social media freelancers need to stay on top of things such as important holidays, special events, discounts the company may be offering and seasonal information. 
Great customer service – You must always provide stellar, top-notch communication since you are the voice of a business. No matter what you need to treat customers with the utmost respect. 
Related Posts
How to Charge for Social Media Work in 2021
101 Social Bookmarking Sites For More Traffic in 2021
101 Social Bookmarking Sites for More Traffic
There is a lot more involved in becoming a social media manager.
Another good thing is that there are other career paths that could spin off becoming a social media manager. 
You could search all over the internet and read all different kinds of advice, watch webinars, youtube videos, purchase books, download starter courses, or even sign up for local classes.
I have taken a great deal of online courses related to social media prior to getting started.
Your needs will be dependent on where you are in terms of experience and the services you want to offer clients. 
If you're looking to get up and start your biz running faster I recommend you check out this course by my friend Jenny Weg. 
Jenny Weg developed this incredible course called 'Social Media Manager in a Month'.
This course was built specifically to put you on the fast track to becoming a social media manager without taking 6 months or maybe a year and procrastinating and scouring the internet endlessly for information, getting frustrated, confused and possibly even quitting. 
This is a step by step, 10 Module course containing everything from adopting the right mindset of a social media manager to marketing to billing and taxes, sharpening your skills in each platform, pitching your skills and so much more.
All in one place. It's great because it has everything to keep you on track from someone who has been highly successful at it. 
Click on the link to learn more about how you can get started with a viable career that has a tremendous growth opportunity for you and your future.  
Social Media Manager in a Month
Your Instructor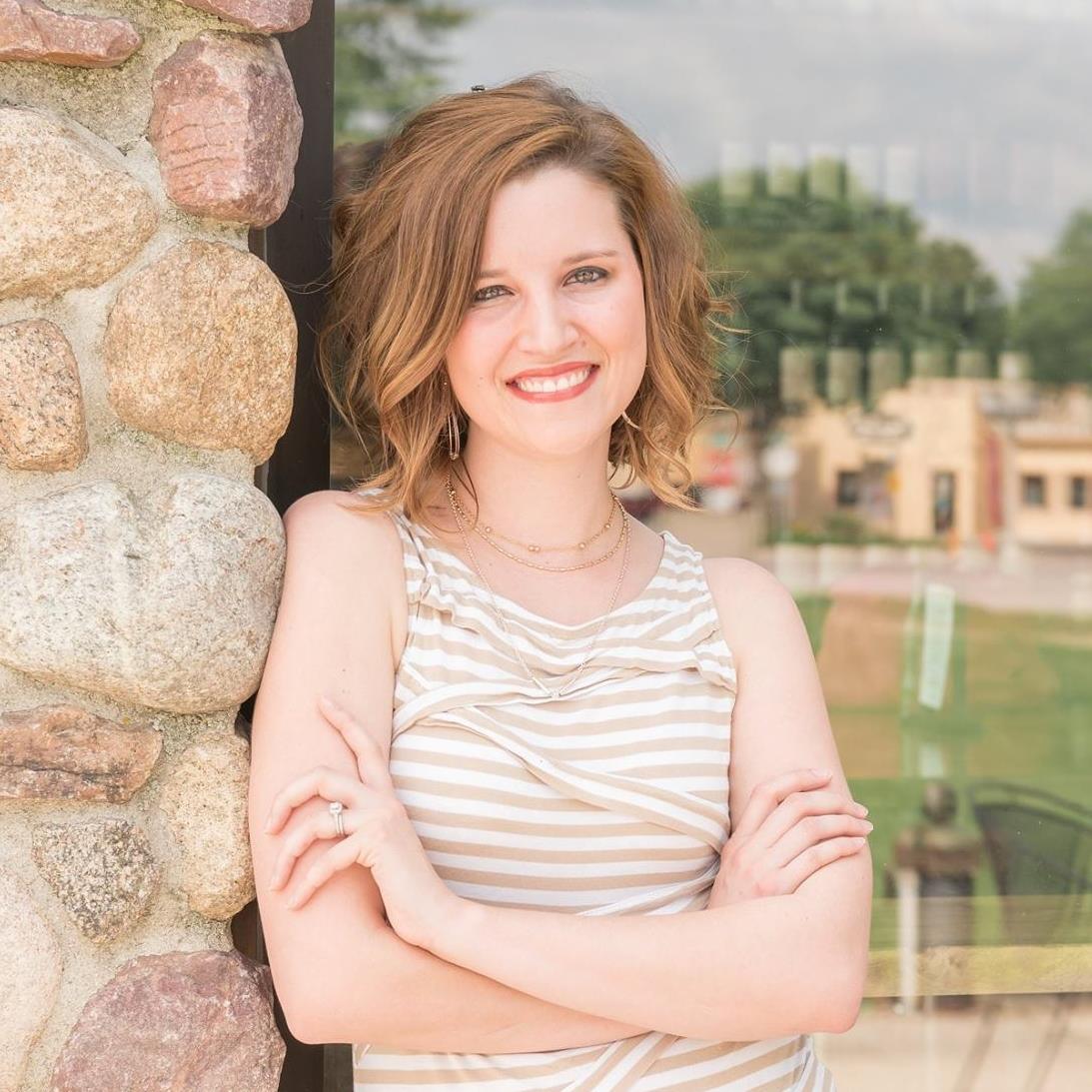 Hi friend!
I'm Jenny- a full-time mom and part-time social media manager. I'm from a tiny town in the Midwest and have been married to my high school sweetheart for 3 years. Last year we welcomed our daughter Addison to our family, and our lives haven't been the same ever since. I had so many conversations with other moms who simply wanted the option to stay at home with their babies but also contribute financially to their family. So I decided to do something about it.
I created Work From Home Mama- a community for moms who wanted or needed to work from home. And that very day I started working on creating a course to teach other moms how to do exactly what I had done a year before– start their own social media management business. I've spent the past few months pouring my heart and soul into this course, with mustard seed faith that it will reach hundreds of mamas just like me who want more for their family. My prayer is that this course will be a blessing to your family for years to come!
Don't Put Your Career on Hold Any Longer 
This is a great program to get your social media management career off the ground fast and start learning and more important, earning! All from the comfort of your home on your own schedule. 
Keep Learning 
I'm a learner. It's one of the reasons I love working as a social media manager/digital nomad so much.
Every day I wake up to something new – new programs, new information, new tools, new platforms.
It sure beats going into an office repeating the same thing day after day! 
And it gives me the ability to make unlimited money and support my family!
2021's Best Blogging Tools to Grow Your Blog Fast
Conclusion
Being a social media manager is a highly valuable asset these days and it's what helps keeps businesses moving forward and ahead of the late implementers.
For you to stay ahead of your competition, you need to embrace the learning lifestyle as well. The digital arena is changing daily and there are always new ways to earn online. 
So check out this social media course by Jenny if you want to get on the fast track to being a successful Social Media Manager in a month (or less!)
Check out my Social Media Course titled: Mastering the Art of Social Media – This is a 7 module course (plus 12 FREE bonuses) about how to leverage social media to help grow your business faster with multiple methods to monetize it even if you don't have a website, email list or…a ton of followers! 

Mastering the Art of Social Media – Scale, Grow and Monetize Your Business!
More Posts of Interest
How To Create an Epic Social Media Strategy For Your New Website
Etsy Printables to Sell Online
How to Be a Top Social Media Influencer in 2020
The Rise of The Micro Influencer & How To Become One
100 Highest Paying Affiliate Programs For Bloggers
Sign up for weekly tips on how to grow your traffic and build a better business online!