Last Updated 4 months by Emily Standley-Allard
When you're just starting out building an ecommerce business, choosing an ecommerce website one of the coolest and most exciting parts. It's also one of the most difficult choices. There are literally thousands of web design possibility's themes and choices! You know you need an ecommerce website that's professional, functional, one that is designed to convert and elevates your business – but at the same time you don't have the budget nor the time for a professional high priced web designer. Here's how to save time and money designing your eCommerce store so you can get started building your business.
Enter Weebly eCommerce Websites by Square.
This post contains affiliate links. If you choose to make a purchase, we will receive a referral commission at no additional charge to you. Please read our disclosure for more details. Thank you.
Design an eCommerce Website with Weebly
Weebly is an amazing website company that anyone can use to build and design a store even if you're a newbie.
One of the many reasons I like Weebly is because they allow you to customize your store's look and choose from 100s of designer made templates, and change anything you want to create your professional eCommerce website.
They don't have nearly as many options as MonsterTemplate or widgets like elementor, but if you don't want to spend tons of time exploring thousands of templates then this is the perfect place to start.
Just drag n' drop. No tech skills needed.
Even if you're a newbie WordPress user, or never even created a website before, Weebly's templates are built to be easy-to-use and intuitive, making it simple to design a website.
No coding knowledge or web-design skills necessary.
Another reason I recommend Weebly's products, is because of their support. They have very easy to follow tutorials and documentation. And are SEO friendly.
Plus, if you have a question or problem, you can always just email them and ask anytime via live chat, email or phone.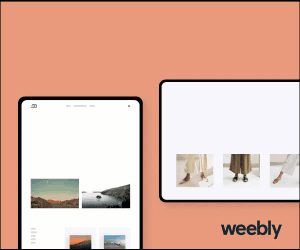 With tailored, step-by-step guidance, it's easy to build a professional website with Weebly.
Create exactly what you want and update it easily whenever you want. There's no coding needed and everything you design looks great on any device.
There are no less than 300 apps in a number of categories such as eCommerce, Communication, Marketing, Social, or Site Tools. Some are free, some are paid.
Some are built by Weebly, some by third-party developers.
All apps are tested and will work instantly on your website.
Click here to try Weebly for Free. 
Weebly eCommerce Website Pricing
$0

Free

Displays a Weebly ad in the footer and doesn't come with a proper domain name.

$5

Connect

Connect your site with a domain name, but the Weebly ad shows in the footer.

$12

Pro

Includes additional features such as video and audio players and phone support.

$25

Business

The ideal plan to run an online store.

$38

Business Plus

Comes with additional ecommerce features for larger web stores.
All Weebly eCommerce Websites Are Mobile Friendly
Weebly templates are extremely mobile responsive and adapt perfectly.
There's nothing worse than seeing a stunning website and then checking it out on mobile only to find it looks weird and wonky on a cell phone or tablet.
Yes, you can use plugins that will make a theme responsive, but why not have one already that comes built with a responsive layout so it looks just as good on a smartphone as it would on a desktop.
Google also penalizes sites that aren't optimized for mobile, so don't miss out on all of that mobile search traffic!
Related
How to Create a WordPress Membership Site with Elementor
11 Website Essentials You Can't Afford to Ignore
Conclusion
All in all, Weebly reaches the top of our list for quick and easy website builders.
Their ease of use combined with cool tools like the iOS or Android app for editing your site on the go, or the number of add-ons available in the app center makes it robust, and fun to use for beginners to pros.
Related 
How Ecommerce Copywriting Will Boost Your Sales
15 Ecommerce Social Media Strategies to Drive Traffic to Your Business
The Ultimate Social Sites to Increase Your Traffic
The Best FREE Stock Photo Sites for Your Blog
How to Make Sure Your Website is GDPR Compliant
How To Start Selling on Amazon with Shopify
Launch Your Shopify Store for a 6 Figure Business
Sign up for our weekly newsletter to promote your business and your website and drive massive traffic to it!