Last Updated 7 months by Emily Standley-Allard
It's time to tap into the power of TikTok influencer marketing. Let's dive into how to drive more sales for your business with TikTok!
On TikTok, there is reach potential like no other platform – you have the opportunity to generate viral campaigns, tap into an entirely new audience, and connect with niche communities.
In the following blog post, we're diving into the who, what, where, and how of TikTok influencer marketing.
Why TikTok Influencer Marketing Should be a Part of Your Strategy
In 2022, TikTok creators are shaping the social media landscape.
Creator endorsements are getting businesses off the ground, brands are selling out of products following a video feature, and influencer marketing campaigns are kick-starting trends that take off across social media.
With 1B monthly users and the average person spending 52 minutes of their day on TikTok, brands have an opportunity to capitalize on a massive audience – especially through creators.
The viral power of TikTok influencer partnerships cannot be ignored.
Take dating app Hinge's influencer marketing strategy for example. They've partnered with several TikTok creators using the hashtag #hingepartners – which now has over 16.1M views.
In their most recent influencer marketing campaign, Hinge partnered with a variety of TikTok creators and the results were off the charts – we're talking viral video after viral video.
Popular creator Kristen Titus' TikTok video for this campaign had 2.6M views and over 220K likes – with thousands of engaged comments from her audience.
If you want to lead the way in social campaigns, investing in TikTok influencer partnerships is a great strategy.
CrowdFire is a social media planning and scheduling tool trusted by over 4M brands and creators.
Curate and schedule your social media posts in advance with CrowdFire.

How to Plan an Influencer Marketing Campaign on TikTok
Running a successful TikTok influencer campaign requires thorough research, planning, and creativity.
Here's how to plan a TikTok influencer marketing campaign in three simple steps:
Step #1: Set Clear Campaign Goals
Before you start drawing up contracts with TikTok influencers, it's important to ask yourself, what am I trying to accomplish with this campaign?
Whether your influencer marketing goals are to achieve brand awareness, reach, or sales – setting them helps direct you to the right TikTok influencers.
At this stage, it's helpful to lay out campaign details. Ask yourself the following:
What is your budget?
How long do you want to run this campaign?
How many influencers do you want to work with?
Do you have enough resources to see this through?
Step #2: Find Relevant TikTok Creators and Influencers
Once you've set your campaign goals and expectations, it's time to find influencers.
On TikTok, you don't need to seek out creators who have thousands of followers to reach your goals.
In fact, the quality and lifespan of an individual video is far more important than the number of followers a creator has.
And the more niche the influencer, the better. Luckily for you, there's no shortage of creators on the app.
But the caveat: with so many creators on TikTok, how do you find the right TikTok influencers to work with?
Here Are Five Ways to Find TikTok Creators and Influencers:
Look for TikTok influencers who are already talking about your brand.
Ask your community for recommendations.
Look at existing partnerships within your industry.
Spend time scrolling on TikTok.
Look at who your target audience is already engaging with.
Partner With Creators
Influencers are crucial on TikTok. Interest in creating influencer advertising campaigns is on the rise too, with a 325 percent increase in 2021. 68 percent of marketers now say they want to leverage the platform.
In response, TikTok released the Creator Marketplace (TCM) in 2019 to make it easier for brands and content creators to collaborate.
Brands use the marketplace to search for registered content creators, manage their campaigns, pay creators and generate reports and insights.
The Creator Marketplace means brands can manage multiple influencer campaigns in one place and keep track of everything through a single dashboard.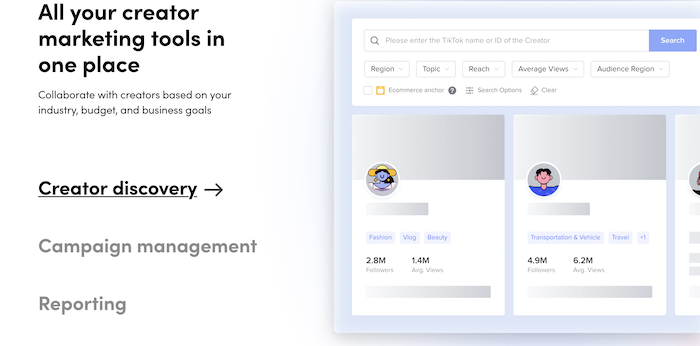 Better still, the Creator Marketplace massively increases transparency. Accurate reporting is notoriously difficult when working with influencers, but it's baked into the Creator Marketplace.
As a result, brands can see at a glance which influencers help them meet their goals and which aren't. This not only lets brands drop the influencers that aren't working out, but also gives influencers the information they need to create awesome campaigns.
Finding the right influencers is another notoriously tricky part of working with influencers. Again, the Creator Marketplace comes to the rescue by letting you filter influencers by several criteria, including:
country
topic
reach
average views
gender
age
audience device
e-commerce anchor feature
Once you've found the perfect influencer, you can use TCM to send them messages, manage your joint campaign, and pay them.
Get started by signing up for the TikTok Creator Marketplace.
Use the TikTok Creator Exchange
The Creator Marketplace isn't the only way to find and work with content creators on TikTok. TikTok also launched the Creative Exchange, designed to help brands and content creators form successful partnerships.
Finding influencers is one of the biggest challenges for brands, making this a fantastic addition to the TikTok Business suite. The 2021 Influencer Benchmark Report survey found that 22 percent of participants find the task difficult, and 56 percent rated it as having medium difficulty.
The Creative Exchange flips the script on influencer marketing. Rather than searching for the right influencer, brands create a campaign plan and let content creators respond to it with their suggestions.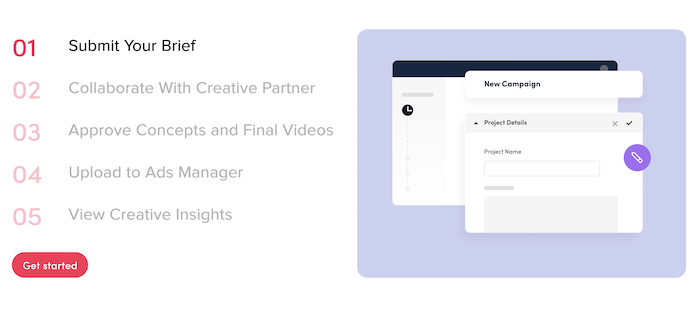 Once you sign up for the Creative Exchange, TikTok walks you through the process of creating your project and provides several campaign ideas. These include a "Story" and "Product Intro," among others.
Next, you'll fill in a questionnaire related to your brand and product so content creators can get a better idea of who they're working with.
Creators registered with the Exchange get notified every time opportunities match their interests. If they're interested, they can apply to relevant projects by submitting their ideas or entering into a conversation with the brand.
The TikTok Creator Exchange is a faster and more efficient way of working with influencers on TikTok. However, it's important to have a clear idea about the kind of campaign you want to create. The more information you can provide influencers, the better responses you'll get.
5. Find a TikTok Marketing Partner
Every minute, people watch a staggering 167 million TikTok videos. That's a huge number, and it shows just how hard you have to work to stand out from the crowd.
Most brands won't be able to do this on their own.
Luckily, TikTok has a partnership program that connects brands with vetted TikTok experts. TikTok Marketing Partners have a wide range of skill sets and specialties, meaning they can help your business succeed at every stage of the campaign creation process. This includes:
Campaign Management Partners help you get the most from the TikTok Ads platform.
Measurement Partners help you squeeze as much performance from your campaigns as possible.
Creative Partners have the audiovisual skills to help you create awesome ads that are a natural fit for the platform.
Effects Partners can create augmented reality effects to help your ads really stand out.
Sound Partners can help brands leverage TikTok's sound-on environment.
Helping you create killer ads is just one of the benefits of working with a TikTok Marketing Partner. There are plenty more, including getting access to new features first, benefiting from expert advice, and knowing what's coming next.
When you work with a TikTok Marketing Partner, you're eligible for early access to the platform's alpha and beta releases. Since TikTok Partners have a strong understanding of the platform, they'll be able to make these new features work for your brand almost immediately.
Because they've achieved success on the platform many times over, they know the exact strategies you need to implement to meet your goals. TikTok also vets every partner to make sure they can do everything they promise.
Finally, a TikTok Marketing Partner has a deep knowledge of the platform's product roadmap. That means they can notify you immediately of future developments in the app so your brand can take advantage faster.
6. Create a TikTok Shop
Social commerce is a huge, growing market. There were roughly 79 million social buyers in the U.S. in 2020. By 2025, it's estimated that figure will grow by 37 percent to 108 social consumers million.
More and more businesses are jumping on the social commerce bandwagon. A 2021 survey found eight in ten businesses plan to sell on social media platforms within the next three years.
If you're looking to get to grips with social commerce, TikTok should be your starting point. According to the company's own research, 67 percent of consumers say they're inspired to shop due to TikTok, even if they weren't planning to. You only have to look at the TikTok feta effect for proof.
With TikTok's new shopping program, getting started is easier than ever. The social media platform has recently partnered with Shopify to allow businesses and creators to promote and sell products directly on the platform.
There are three core ways merchants can promote products on TikTok:
Merchant-led LIVEs and In-Feed Videos: Merchants can promote products directly in the app through LIVEs or standard in-feed videos.
Creator Collaborations: Merchants can collaborate with creators to leverage their communities.
Campaigns and Promotions: Merchants can participate in TikTok Shop's monthly campaigns.
Creating a seller account is easy:
Open the TikTok Shop app and click Become a Seller if you already have an account. You can also create an account from scratch.
Fill in your personal data.
Fill in the TikTok Shop Seller Center profile.
Click continue and start selling.
Many major brands are already selling on TikTok, like Kylie Cosmetics and Manly Brands. Even smaller brands have seen success selling on the platform.
Step #3: Reach Out to TikTok Influencers
Once you've compiled a shortlist of potential influencer partners, it's time to make the first move.
Your initial message to a creator could make or break a potential partnership, so it's worth putting in some extra effort. If in doubt, follow our guide below:
Research for the correct contact details: Be sure to comb the internet and check their socials. TIP: A DM slide is fine, but an email may be best. If you've tried searching the world wide web with no results, you can certainly slide into their DMs, but a creator's email inbox will likely be less crowded.
Introduce yourself: Be clear with who you are and your role. Talk about why you think they would be a great fit for the campaign.
Outline your campaign idea: Let them know what you have in mind for the collaboration.
Ask for their media kit: This gives you a good look into their audience demographics, important numbers, and past collaborations.
Detail your budget or ask for their rates: Be transparent about this right off the bat.
Related
TikTok Marketing: Quick Guide for Marketers (2022)
TikTok Marketing Tactics You Need to Know
Tik Tok For Fame – 10 Tips to Go Viral
How to Execute a Successful Influencer Marketing Campaign on TikTok
Here are our four top tips for success:
Give TikTok Influencers Creative Control
Be Experimental and Take Risks
Build Long-term Relationships
Set Clear Expectations
Tip #1: Give TikTok Creators and Influencers Creative Control
When it comes to a successful TikTok campaign, you've got to put your trust in the creative's hands to let them work their magic.
This is why spending time finding the right influencers is so important — you have to trust they'll understand the assignment.
However, that doesn't mean you should give creators total free rein when it comes to your campaign.
Which is where having a statement of work comes into play…
Tip #2: Set a Statement of Work
To ensure campaigns run smoothly, it's a good idea to draft up a statement of work for all partners you work with – no matter how big or small the partnership.
A statement of work, sometimes also referred to as the "scope of work", is vital and should include:
Campaign goals
Campaign theme and details
Payment rates, terms, and timeline
Detailed content deliverables
Approval and submission deadlines
The statement of work is typically part of a bigger contract, which is the legal document that outlines the expectations for both parties.
Influencer marketing contracts include more details than the statement of work, including disclosure guidelines, exclusions, approval processes, and content ownership.
We asked Later's Marketing and Communications Coordinator Adrienne Sharpe if brands should include both a statement of work and a contract. Here's what she had to say:
"Yes, it's a good idea. Although some of the content within the two documents will be the same, the intention is different." she explains.
"The SOW will always be sent before the contract, and it can be used as a working document to go back and forth on deliverables and creative ideas before moving into the contract stage."
Tip #3: Be Experimental and Take Risks
TikTok is all about taking creative risks – so why not do the same with your influencer marketing campaign?
Your influencer partnerships on TikTok can (and should) look much different than they do on other social platforms.
If you've never entered a challenge, now's the perfect time! Have an idea for a viral audio? Time to test the waters and record it.
Get creative and out of your comfort zone.
Take online banking company Chime, for example. They ran an influencer marketing campaign with several TikTok creators like @ladyefron and @rickeythompson.
Chime created their own original TikTok sound and hashtag #ChimeHasYourBack – which has billions of views.
Tip #4: Build Long-term Relationships
When you go the extra mile and build a strong partnership with an influencer, you're also building a strong relationship with their audience – win-win.
Even if the influencer is a trusted source, it can take time for audiences to get on board and actually click the link or purchase.
In fact, research says "a person needs to see or hear an advertisement at least seven times for it to make a lasting impression."
This is why we recommend working with an influencer over a long period of time.
The best influencer partnerships feel so natural and a part of their content that their audience naturally associates the creator with your brand.
For example, when you think of TikTok star Addison Rae, you may automatically think of American Eagle. That's because they have a strong ongoing partnership.
Working with the right TikTok influencers is a great way to expand your reach, build a niche community, and ultimately, make sales.
Whether you're new to influencer marketing or are a seasoned pro, TikTok is one of the best platforms to not only get creative with but experiment, too!
And, did you know you can schedule your posts to TikTok?
When it's time to post, you'll receive a notification through Later's mobile app, along with the video and prepared caption.
This makes it easier to streamline and plan your overall campaign – so you can consistently build on a clear campaign message!
Start scheduling your TikTok videos today – no last-minute posting required:
Author Bio:
Jessica Worb
Jessica is a creative content writer and marketer. She lives and works remotely from Winnipeg, a city smack dab in the middle of Canada. Follow along at @jessicaworb.
Generate more income as a content creator! Join the HIVE today for insights, trends, publishing opps and $7,000 worth of resources!