Best Blogging Resources
This post contains the best blogging resources and tools that go into creating a successful money making blog and online business. The tools can vary depending upon each entrepreneur's goals and each blogger's niche. An online entrepreneur encompasses so much more than being just a writer. You're also a marketer, a publisher, an editor, a creator, a designer, a proofreader, a researcher and so much more.  This post is designed to make a blogger's work more efficient and manageable. The ones I list here simply work the best, save me the most money and time, make me the most money, and protect my website on a daily basis. 
The following contains some affiliate links which means I get a small commission if you decide to purchase anything with no extra cost to you. Please read my disclaimer for more info.
AmaLink Pro Affiliate WP Plugin – AmaLink Pro is hands down the world's simplest, most efficient plugin to add your Amazon links to your blog or website.

Blog Topic Generator
Even the most creative of us run out of ideas sometimes! When that happens and you need a catchy title, ad campaign or content spark head over to HubSpot for their terrific Blog Topic generator.
This handy tool makes it easy to generate an endless amount of topics with one click!
Blog Content
I use THE HOTH when short handed for WRITING projects AND HOTH X for LINK BUILDING SERVICES. They are both fast, affordable, produce high quality content and I love their White Hat manual outreach links, PR press banners, blog to video service, customer reviews, guest posting services, blog booster and their super easy to use platforms!
Website Legal Templates
The last thing any blogger wants is to unknowingly violate the law. Therefore it's vital to protect your online business and website. With these templates Amira who is also an Attorney makes the process very easy and non intimidating.
These affordable templates ensure that your website and blog is legally protected and complies with the law.
Trusted by thousands of bloggers, entrepreneurs and businesses the quality protection is well worth the low price for peace of mind!
You also get 9 bonuses for FREE well worth over $1,175.
Click on the image to learn more!
The Blog Profit Calculator
Get a rough estimate of how much you could be making with your blog today. Input your monthly page views and your primary content niche.
Email providers
I started out with Mailchimp because I have to admit – it's FREE and simple to use. However I have to say that they make it virtually impossible to speak with anyone if you're not on a paid plan so if you have any issues whatsoever I DO NOT  recommend them.
I am more than impressed by Constant Contact.
They've been in business for decades, offer a 60 day free trial with no credit card, email templates to put on autopilot and second to none customer service.
A lot of major bloggers also use Convertkit – Update! I have switched to Convertkit for Jan. 2020! I love their auto-responders, sequences, tagging features, landing pages and forms. Their customer service has really improved as well.
Mailerlite and Aweber are also competitive email platforms that I would not rule out and very affordable.
Mailerlite is only $10 per month. You can read my review here:
Convertkit VS Aweber For Automated Email Marketing
Website Design
My first blog was built on Squarespace which is great if you want a simple type of website. They do have some beautiful themes to choose from. But for Bloggers, there's no doubt that you've got to have a self-hosted site on WordPress.org.
WordPress has unlimited themes, a ton of free and paid for plugins to make your site operate exactly as you want, it is super easy to use, there is a ton of help for anything you need to do and the best thing is that you OWN it.
It is the holy grail for blogging, hands down.
If you opt to have a free site the fact is that it's limited, it's owned by someone else, they make the rules and they can change them. They also tend to look less professional and most importantly, it can disappear at any time.
How to Save Time Designing Your Website/Blog
Website hosting
For hosting I chose Bluehost. There are many other hosting companies to choose from but I found Bluehost to have very low competitive prices, only 2.95 per month, top speed, 24/7 support, excellent security and it's trusted by more than 1 million domains!
I've never had an issue and switching it over from a more expensive hosting company was flawless.
You can check to see if you're name is available right here:
How to Blog and Make Money
For free tips how to make money from your blog read my post. Filled with guaranteed strategies to earn an income from your blog even with low traffic!
6 Proven Ways to Monetize Your Blog 
Small Business Accounting
Freshbooks: Freshbooks is a small business accounting software service (similar to QuickBooks) I use for my side business. It helps you keep track of your income, send invoices, and more. You get a HUGE amount in savings with FreshBooks as compared to the ridiculous rates that PayPal charges.
They're having a Winter Snowflake Sale starting 1/9/20! 70% off for 3 months! Click on the banner to grab it now!
Sales, Business and Traffic Resources 
To draw more traffic to your website you need landing pages that convert. For this I recommend Lead Pages to attract an audience and grow your blog and business faster.
Automate Tasks
Hubspot allows you to capture leads from your website, email or social media automatically and track their activity — with customization of your forms and more insight into your leads. Best of all it's 100% FREE!
Course Creation
Podia and Teachable are both highly reputable platforms. I love the ease and simplicity of Podia. They make it straight out of the box simple to sell online courses, memberships, and downloads without worrying the technical aspects.
Eliminate expensive subscriptions and needless plugins and have everything under one platform.
Video Creation
For simple yet professional videos that even amateurs can make there's Animoto.
Turn your photos into marketing videos for business or for personal use. They also have various budget tier levels and offer a free trial.
You can also use the vimeo app for simple free video creation storage and sharing.
Read my post:
Animoto – The Simple Way to Create Marketing Videos
SEO/Social Media ToolKit
SEMrush combines so many different features all into one place. Usually, you have to get an SEO tool, a social media marketing tool, a PPC tool, a research tool, and so on but this platform does EVERYTHING.
Domain analysis, keyword analytics, backlinks checker, toxic links analyzer, competitor analysis, social media scheduler and so much more!
All of the different online marketing elements you need to run an online business are rolled into one neat package with SEMrush.
PLUS! If you choose to sign up to be an affiliate and promote SEMrush, you get 40% recurring commission for sale.
The commission plan goes as follow:
For pro plan (priced at $99.95/month), you earn $39.98
For Guru plan (priced at $199.95/month), you earn $79.98
For Business plan (priced at $399.95/month), you earn $159.98
It goes higher if the referral opt for enterprise plan and purchase add-ons.
Editing images
I turn to Picmonkey  and Canva on a daily basis because they have everything you need for the beginner or expert to turn to make your image ideas turn into life – photo editing, collage making, graphic design tools for ebooks, lead magnets, social media and more.
Related Posts
How To Create a FREE Printable in Canva
12 Most Profitable Digital Products to Sell Online
7 Tips for Creating a High Converting Landing Page
Why Social Media Branding is Essential for Your Success
25 Ways to Make Insane Money With Social Media

Logo and Design Resources 
If you're looking to turn your blog into a full time or even a part-time business go with 99 Designs.
99 Designs offers you access to a whole community of designers at your fingertips.  Whether you need a logo, book cover, website or impressive templates that can be instantly personalized in minutes to create the exact look you need.
They have all the tools you need to help you with the trillion different details of running a small business from logo and website design, book covers, social assets, templates and more.
Plus they have a quick turn around time and low prices!
For INFOGRAPHICS I LOVE Visme!
Totally FREE (for basic) and an amazing tool to create stunning presentations, reports and infographics to capture your target audience. 
I've received more traffic from infographics than any other type of of graphic I've created. Sharp visual content is what you need to draw attention these days. 
Freelancers
Fiverr I recommend for great rates and a quick turnaround if you need anything from a quick WP troubleshooting issue
WordPress help

photoshop editing

flyer design

blog posts

illustrations

translations

influencer marketing

t-shirt design
cartoons and comic design

album covers

creative writing

proofreading & editing

business cards & stationary

research

web programming

resume or cover letter

banner ads

PDF or eBook covers

blogger outreach

videos

web development,

Pinterest pros or even

voice overs!
Basically everything you need to run an online business is available.
They even have Fiverr Pros who are top rated professionals around the world in their niche. They charge more than the normal Fiverr freelancers but are well worth it.
They're also something to consider if you have skills that you want to market yourself if you need to earn some cash!
Read my interview with 'LaserLife' a top rated Fiverr Copywriter who makes thousands of dollars a month on Fiverr here!
Affiliate marketing
I use Share-A-Sale and Wealthy Affiliate!
They have thousands of well known merchants to choose from in all different niches and are quite frankly the easiest to work with.
The platform is VERY simple to digest and understand even for beginners. 
I increase my sales, generate new interest in my blog with high profile merchandisers and get the highest commissions.
I only pick and choose products that are relevant to my niche, that I actually like and use myself, and recommend to others that will help grow their business.
The platform for ShareASale is very basic and easy to understand, it's a breeze to sign up and like I said there are tons of popular and familiar merchants to choose from.
Clickbank and Skimlinks are also very popular but I didn't make as much with them because I found their platform very convoluted. They do offer their own University however and are globally known.
Clickbank however is a privately held company that's been around since 1998 so they must be doing something right.
It has more than 6 million clients worldwide.
I myself prefer a smaller network and if you're just starting out with affiliate marketing I recommend you go with one that's not too overwhelming.
Wealthy Affiliate offers step-by-step training and has coaching and mentoring programs, educational videos, free trials, free lessons and a tremendous support network.
Here's a tutorial for Clickbank if you're interested in learning more.
Clickbank Affiliate Marketing Tutorial
To Earn the Highest Affiliate Commissions – Read my post:
60 Highest Paying Affiliate Programs for Bloggers
Whether you're new to affiliate marketing or been at it for a while I recommend Wealthy Affiliate's full Marketing course for learning how to make passive income online.
This invaluable course has shown me and others:
How to help you build a successful online business with all the tools, support and resources you need

how to choose a profitable niche to be successful

The step-by-step affiliate marketing strategy course that shows you how to increase your affiliate income and make more money blogging
If you're interested in building an affiliate marketing blog as a full time career to make passive income online, then I recommend you sign up for their FREE trial with their highly popular program.
Wealthy Affiliate – FREE trial 
To get a glimpse into affiliate marketing to learn how bloggers earn $5K – $150K monthly! Try our Blockbuster guide or this highly popular course:
Social Media Resources 
Revive Social is a very useful tool for increasing your traffic. Revive Social Network can help you to build a strong social circle and grows your professional network by sharing content from other websites in your industry on your Social Media accounts.
Set it and watch your social circle grow automatically. Revive Old Post helps you to keep your old posts alive by automatic sharing them and driving more traffic to them from social media networks.
Set it up once and you'll never have to worry about your old posts again.
Tailwind
Tailwind for Pinterest and Instagram has helped me go from 200 views to over 400K in a matter of months! It is the best auto-scheduler to amplify your Pinterest/Insta following, simplify your pinning, grow your blog's reach, expand your presence, analyze and build your new business.
They even let you post to Facebook and Twitter!
Aside from SEMrush I truly could not live without them. Otherwise I'd be pinning manually for hours on end each day!
This is one of my favorite plugins that I use on Socialbuzzhive.  It includes social share buttons that make it easier to share your post and also keep count of how many times your post has been shared. Social traffic is so important to bloggers and this plugin can really help.
After I installed this plugin I saw an immediate increase in shares. I have it set up to include Facebook, Twitter, & Pinterest but you can customize it to whichever social networks you prefer and even change the style and the colors.
Like most services, the paid version is the one you want if you are a professional blogger… the features are quite limited without it.  Get Social Warfare HERE.

Keyword Research
Jaaxy Keyword Tool – There's no comparison when it comes to keyword tools. Keyword research is time-consuming, confusing and exasperating!
I like Jaaxy because it was made for affiliate marketers and bloggers. You can't get a more advanced and useful platform for managing all aspects of keyword research, website, competition all in one place.
Grammar and Plagiarism Checker
Grammarly is the world's best automated proofreader and plagiarism checker for all your blog posts!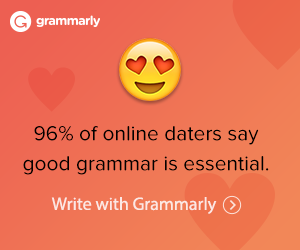 Miscellaneous Sites That Help Me Make My Life Easier 
Resume Services
Resume Writers – Top rated resume service for students, professionals, freelance writers, and executives or anyone who needs to make a career change and revamp their tired resume.
WP Tasty is a Powerful Recipe plugin for Food Blogs created by top notch food bloggers – read my review here. 
Print Friendly & PDF – I love this extension because you can make any web page into a PDF – it's so cool! It removes junk like ads, gives you an editable preview and still has clickable links. Get more shares, saves, and love!
Nourishment
Now that blogging has taken over my life who has time to cook?  I also found I was spending a bundle on eating out as well as shopping for food and always getting more than what was on my list –  I started a free trial of the $5 Meal Plan – and my wallet is really happy I did.
Sunbasket
Sunbasket is another time-saving meal site that does home deliveries. It's Organic produce, clean ingredients, and delicious recipes delivered weekly. They specialize in Paleo, Lean & Clean, Gluten Free, Vegan and more. They are really delicious and awesome!!
They won second overall in delivery meal kits in the country. I hate taking the time to shop, prep and cook so this makes it totally worth the price. You get $45 off your first order if you click the link!
I hope this list of resources helped! I know it's extensive and you don't have to use all the resources of course, but it will give you a feel for some of the best products out there to create a successful online business/blog/website. 
Most companies have FREE TRIAL PLANS so you have nothing to lose. You can quit at any time. 
For a detailed list of exclusive blogger secret methods to make a lucrative living online, drive more traffic and leads to your website grab my Ultimate Checklists which will give you excellent strategies to promote your blog posts online.
Comes with 4 FREE Checklists including; the ultimate promo list, 300 Pinterest Groups, 40 FB groups and an SEO Powerhouse Checklist you must have to drive a surge of traffic to your new website.  
Like and share this post on social and reach out to me for any questions or comments!