Last Updated 4 months by Emily Standley-Allard
There are so many incredible and FREE blogging tools, web services, software applications, and resources and products available today that are powerful and effective for growing and sharing your blog quickly, to hundreds of thousands or maybe even millions of views in a single day! Start sending a flood of traffic to your target audience today, with these free blogging tools to grow your blog quickly, without burning a hole in your pocket. From idea creation to producing, publishing, and designing your content, to sharing, marketing, and promoting your brand, you'll find these blogging tools free, easy to use and accessible.
Here are some of the best free tools I've used myself to grow my own blog and get millions of readers around the globe fast: 
This post contains affiliate links which means I get a small referral fee which helps keep the site running with great info with no extra cost to you! For more information please view my disclosure for more information. Thank you:)
Use These FREE Tools to Grow Your Blog Faster!
1. Quora
Before I had a blog I used Quora to ask so many questions! It was pretty cool to ask questions about anything whether it was health-related or technical or household tips or about your relationship, child's behavior, business advice etc.. then you get answers back from a variety of people in different industries.
Quora is a great place for developing content ideas. You can search for a topic, see what others are asking, and answering, and then write it up, adding to the conversation.
But there's more!
Quora helps you establish yourself as an authority in your area.
And you can link your website to your profile.
If you have a blog, a product or service, you can use the site to get feedback from users and to generate new feature ideas.
2. Feedly
When Google Reader shut down everyone went over to Feedly. Feedly is the best blog reader around. You have to be reading a lot of other blogs if you want yours to stand out.
Once you start reading the top blogs from key influencers, you will learn the right style that drive the most traffic, and what sets top blogs apart from the rest.
You can sign up for blog feeds, share your favorites, bookmark the ones you have yet to read.
Be careful though, if you're a new blogger you really don't want to get sucked into sucky comparison mode that potentially hinders your progress.
However, if you can view things objectively and you don't suffer from inadequacies then by all means look at these blogs with an eye towards inspiration.
Related
Revolutionize Your Writing with AI: Unlock the Power of an AI Writing Generator!
My Picks for the Best Blogging Resources/Tools
6 Proven Methods to Monetize a Blog
Ultimate Ways to Promote Your Blog and Get More Traffic
How to Earn Money and Traffic from Pinterest
101 Social Bookmarking Sites for More Traffic
How to Build Your Epic Online Business
How to Make Up To $900 Per Hour Writing Quotes for Instagram
3. Crowdfire
Crowdfire is my secret weapon of choice!
Crowdfire is a Social Media Management tool that helps Social Media Managers, Small businesses, brands and individuals drive Social Media results. We offer Social Media scheduling, engagement, Analytics, Social listening and CRM services.
You can easily share your blog content across the board automatically.
Connect Social Networks: Facebook Pages & Groups, Instagram, YouTube, Twitter, Pinterest, LinkedIn, LinkedIn pages, WordPress, Etsy, Shopify, Medium, 500px, Vimeo and many more platforms.
See what articles and news people are sharing on the web, and who is sharing them. From this simple start, you can gain a wealth of information.
With the free account, you can only get limited information, but definitely, enough to find out what works and what doesn't.
With Crowdfire you can
Monitor your Social conversations and listen. Reply to all your Social mentions from a single dashboard.
Deep dive into Advanced Analytics, download ready-to-present beautiful reports.
Build custom reports and schedule the export of these reports.
Compose your own posts and schedule them to go out later.
Automatically find and recommend articles and images your audience will love, so you can share them to all your social profile and keep your timelines buzzing!
Keep an eye out for any updates on your website, blog or online shops; and create quick, beautiful posts about the update to easily share on all your social profiles
Schedule all your posts in advance and post them automatically at the best times or at a time chosen by you. Saving you tons of time and effort!
Take away the headache of crafting separate posts for each individual social profile and automagically customize your posts for all your profiles!
Use the Crowdfire Chrome extension to share your favorite pages from the internet to all your social accounts in 2 easy clicks!
Add your favorite websites and blogs as your source for new content using the RSS feature!
Manage multiple clients using Crowdfire profiles.
Try Crowdfire for free here.
The blogging tool will also help you save tons of time while driving massive engagement and growth.
Related 
Design Process Simplified – For Non-Designers
Ultimate List Post to Promote Your Blog to Get More Traffic
How to Get More Backlinks to Rank Higher on Google
Why Your Blog Needs Guest Posts
Top 10 Mistakes New Bloggers Make
How to Get More Clients During a Crisis
How to Make Money with Sponsored Blog Posts
4. Canva 
Canva is a design service for people who can't design, like moi.
A stunning image in a post or email is proven to increase shares, and increased shares means more visitors.
Especially on Pinterest! 67% of my traffic comes from Pinterest which shows you how vital it is for bloggers.
So, if you can't design, no problem!
Anyone can use it for virtually any design asset you need.
The site uses simple drag-and-drop principles to help you create art and design for your site, allowing you to choose from thousands of images, fonts and colors to get exactly what you need to illustrate your story.
Grab FREE Canva Video Templates HERE!
Get FREE Social Media Templates from Simplifying Design HERE
WriteSonic & Photosonic
Tired of cranking out blog articles and creating engaging social media posts day after day? Sick of getting writer's block? Let AI write for you! Need multi-lingual content? No problem.
With Writesonic you can write a book 5x faster.
Imagine all the blog posts, social media posts, video scripts, digital art, course material and more than can come from a powerful AI tool like this!
Related 
How to Start and Grow Your Business on YouTube
TikTok Marketing Tactics You Need to Know
How to Market on Pinterest – The Ultimate Guide
SEO Strategy Guide for Beginners
Blogger Outreach vs. Guest Posting for More Traffic
10 Secrets to Drastically Improve Your Instagram Traffic
How To Create Impressive Designs with AI
13 Ways Social Media Will Skyrocket Your Business
5. Hemingway
The Hemingway app is all about making your writing clearer and easier to read.  For some people, writing flows so naturally. I am not one of those people. My writing tends to be choppy and sometimes all over the place.
Thank goodness for Hemingway. The app helps you avoid complicated, hard-to-read sentences, passive voice and adverbs. Hemingway is ideal for people who have to explain complicated ideas to anyone.
6. Google Keyword Planner 
The google keyword planner is still one of the most accurate SEO tools available out there and it's FREE!
You can find suggested terms that relate to all your keywords and all their metrics too.
It lets you choose and discover easy to rank for terms (or highly searched for terms) to place in your work.
7. WordPress.org
There are countless content management system (CMS) options, but WordPress.org (not to be mistaken from WordPress.com) is still one of the very best.
Once you have got your site up and running, you need a way to publish your stories. Sites like Wix or Blogger are great for your own personal blog but if you're looking to get thousands or millions of visitors, monetize your content etc…, only the WordPress.org platform can handle this.
How to Create a WordPress Membership Site with Elementor
On WordPress.org, you can customize and monetize your site and add plugins for a ton of different needs, from SEO optimization to image presentation, from email forms to capture.
Related 
Cartoonize Any Photo with Colorcinch
Top Tools Every Blogger Needs to Be Successful
10 Reasons Why No One Cares About Your Beautiful Website
How 37 Bloggers Earn $2K – $1Million Per Month
Why Social Media Branding is Essential for Your Success
11 Website Essentials You Can't Afford to Ignore
How to Make Money Online Without a Website
8. SEMrush
SEMrush is free for 14 days, but I think it's one of the top SEO/Content marketing tools out there.
They give you a complete SEO audit of your site including content suggestions, alerts, toxic warnings, backlink profiles, anchor texts and you get a complete view of who your direct competitors are, what keywords they're ranking for so you can start assessing them appropriately.
It's a whole lot of information they give out for free! They can even plan, write and analyze your content, provide you with social media and more.
You can check your site right here with this handy tool, do an SEO and site analysis and see how you stack up against your competitors!
SIGN UP FOR A FREE TRIAL OF SEMRUSH NOW
Images are also the best way to share ideas on social media, and Stencil similar to Canva lets you create amazing text-based images, helping you get more engagement and shares on Twitter, Facebook and Pinterest.
You can create quotes and daily inspiration messages, or just have a line from your latest blog post as a teaser.
You can also take in information from images ten times faster than from text alone; and because visual processing is what our brains are designed for, sharing ideas as images immediately invokes a reaction in your audience.
10. FREE Stock Photos
Stunning images are a must on the list for essential blogging tools.
Stock photos have come a long way! Anyone can have awesome image content on their site for free with free stock photos.
Images increase shares, and having great images will definitely get your blog and business noticed more.
Related 
Simplifying DIY Design – FREE Templates
27 Of the Best FREE Stock Photo Sites for Your Blog
10 FREE Feminine Styled Stock Photo Sites
11. Typeform
Typeform helps you build contact forms and surveys, meaning you can interact with your audience and become a meaningful place for dialog.
A lot of Pinterest and FB users are using Typeform now to get potential members to sign up for their group boards. It's also an awesome way to conduct surveys to grow your business.
Responders can easily navigate it on a desktop or mobile, and users could stay on the page throughout, rather than wait for the next page to load — one of the main reasons people bug-out on a survey.
12. TinyLetter
TinyLetter is a super-simple app that lets you create and distribute email newsletters, which is a perfect way to get your posts into everyone's inboxes each week.
Brought to you by MailChimp, TinyLetter is for people who don't need all the business features that come along with MailChimp.
It's simple, free and easy to use.
13. Sumo
Sumo is a suite of free blogging tools that can be used to grow your website's traffic.
The Sumo tools are easy to install and work on any website. It also helps you build up an email list with popups, and can even tell you where people are clicking on your site.
SumoMe gives you an in-depth analysis of what works on your blog and what doesn't.
It also integrates with other services' email lists like MailChimp, ConvertKit, Aweber, etc. .so you can seamlessly build your email list and grow your ROI.
14. Google Search Console
Formerly known as Google Webmaster Tools, Google Search Console allows you to check indexing status and optimize visibility of your website. A must have blogging tool for everyone!
Speaking of must have blogging tools I also recommend Google's Structured Data Markup Helper, MonsterInsights and Google Trends.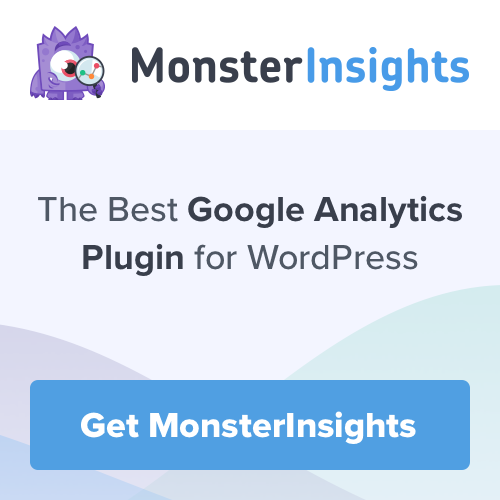 With MonsterInsights you get a clear view of who is coming to your website, which posts are most popular so you know what to write more of, and where they came from! All from your WordPress dashboard. It's amazing!
The Structured Data Markup Helper helps you markup elements on your web page so that Google can understand the data on the page.
Once Google understands your page data more clearly, it can be presented more attractively and in new ways in Google Search.
In addition, if you send HTML-formatted email to your customers, Markup Helper can show you how to change your email templates so that Gmail can present the data to the user in new and useful ways.
15. Print Friendly and a PDF
Print Friendly is a Chrome extension that will transform your blog into a PDF, getting rid of all the extra crap and just leaving your audience with a well-formatted booklet of your posts.
They even have a print and download button you can put on your site that is GDPR compliant. Very cool!
A great way to gain a following is to create an informative eBook that's also known as a "content upgrade," in the form of a PDF that visitors can download and read offline — in exchange for their email address.
Voila! A perfect little blogging tool!
16. Medium
Medium.com which was launched in August 2012, is a great blogging tool for getting your published work and blog posts out there! It's a hybrid collection of amateur and professionals who write about a wide range of subjects.
They have a huge audience and if you want to make your content go even further this is definitely one of the places to be!
It's very easy to do because you simply have to copy your URL and post!
You can connect your social media following and even take your audience with you! In addition, if you join their partner program you can get compensated for your writing.
The competition is tough to make money but it's still a great way to gain exposure to your website and social media accounts with very minimal effort!
P.S. Thriveglobal.com by Arianna Huffington and Microsoft Start are two great publishing platforms!
17. Google Analytics
To say you need Google Analytics for a blogging tool or business is an understatement.
You should be checking out your visitor numbers from your very first post, analyzing what posts get the highest views and where those views are coming from.
Then, you can start to tailor your operation around those ideas. Keep what works, and delete the rest. 
Google Analytics is the most extensive suite out there, and even the biggest sites are still using it.
Google obviously knows its numbers, and if this is a major place your visitors are coming from, who better to tell you the good news?
18. Email Marketing 
A great email marketing program is a vital blogging tool in your marketing arsenal that you must have.
Pound for pound email has 3.9 billion more accounts than social alone.
Every day you don't have a list is another day you're losing out on potential sales, networking and connections.
After all the expression the "money is in the list" is indeed a true one.
However, the true goal of a great email marketing campaign is to build trust, loyalty and brand awareness.
One of the best ways to grow your list and attract new subscribers is through an automated Email marketing platform like Constant Contact. 
19. Hubspot FREE CRM
This free blogging tool can help you keep track of all your leads from your website, social media, email prospects and leads automatically, and turn your site into a revenue generating machine! You get to see everything all in one place with total visibility.
I love their Social Media content calendar and Email Templates!
Not only that, they are a 'hub' of knowledge for businesses and offer free courses and even certifications on a multitude of subjects.
And best of all it's 100% FREE! 
More Articles of Interest
TikTok for Fame – 10 Tips to go Viral
Top Pro Email Marketing Tips for Beginners
5 Tips to Use Images to Increase Sales in Email Campaigns
15 Ways to Grow Your Email Marketing List
How to Get More Backlinks to Rank Higher on Google
5 Popular Blog Niches That Drive Traffic and Make Mega Money
How AI is Changing the Dynamics of Media
The 12 Most Profitable Digital Products to Sell Online
Your turn!
What do you use to grow your blog traffic? I'd love to hear about what you think the best free services and products out there are to grow your audience and build your online business.
More Articles and Resources
How to Turn Visitors into Sales with Hello Bar
25 Ways to Make Insane Money with Social Media
The Ultimate Social Sites to Increase Your Traffic
How to Find Remote Work That Pays Well
How to Create an Epic Social Media Marketing Strategy
The Content Creators Ultimate Tool
Categories List