Last Updated 9 months by Emily Standley-Allard
Here are the top 10 new blogger mistakes in 2023 – And how you can fix them!
Making mistakes is a given when venturing into anything new, and the best way we as humans learn.
As a beginner blogger you are bound to make a whole lot of mistakes. But why not do yourself a favor and avoid some of the major pitfalls if you can.
You can save yourself so much time, money, and anguish if you are aware of some very simple and quite common mistakes that frequently occur in those first few months. Do yourself a favor and don't take the hard route.
Learn from those who have been there and avoid these errors. And if you recognize that you've already done some of these things, then there are easy fixes towards mending them.
Here's are some of the top 10 (actually 11) beginner blogging No-No's you want to avoid at all costs, and ways to fix them to set you up on the road to be a successful blogger from the very start!
This post contains affiliate links. If you make a purchase we will receive a small commission at no additional cost to you and we thank you. Please read our disclosure for more information.
10 Big Mistakes New Bloggers Make
1) Treating Your Blog as a Hobby and Not A Business
Now if you'd like your blog to solely remain a hobby that's one thing of course.
But if you'd ultimately like to monetize it and make some serious passive money from it month after month, you must get into the habit from the start and treat it like a full-blown business.
Looking for ways to actually monetize your blog that work?
Read This!
6 Proven Ways to Monetize Your Blog
So how do you go about this? Several ways.
Get a self-hosted CMS platform.
First things first you must get a self-hosted blogging platform, i.e. WordPress.org and a custom domain name.
**Note – if you're on a free blogging platform like WordPress.com or blogger.com you will not be able to monetize your blog and you don't own it.
With WordPress.org you have full control over your website, can advertise, install tracking analytics insights, and are free to customize it anyway ole' way you like.
Difference Between WordPress.org vs. WordPress.com
Manage your schedule. Create and carve out appropriate times and be realistic about your goals and what you want to achieve. (i.e. Make $2,000 per month to start)
Join a mastermind expertise Facebook group
Invest in high quality blogging services (i.e. social media automation tools, email marketing, hire a virtual assistant or a Pinterest assistant perhaps)
Invest in a professional blog design, email address & images
Focus on building your brand (cohesiveness and recognizable logo)
Choose your specific niche
Keep track of your earnings/expenses with good software
Using a free CRM system such as Hubspot or Keap to keep track of leads
2) Lacking a Consistent Image
When I first started my blog my images were colorful and eye-catching. But they lacked any type of consistency and recognition. I didn't have a logo and nothing was cohesive.
In a nutshell it was all over the place. Yes, it's still embarrassing to look back on some of the images that I haven't gotten a chance to replace yet with my new look.
Lack of branding is one of the first blogger mistakes you'll notice in a newbie.
Creating a brand is not only important for your audience but also for your sense of identity as a blogger.
Every time you create a post and have to create a pin for it, it should literally take you no more than 3-5 minutes to do so. It should have the same 2 or 3 colors, with your text, your logo and boom! You're done.
It should represent exactly who you are, have your amazing click ready headline and be ready to be uploaded into Pinterest or any other social media platforms.
Related Posts
Revolutionize Your Writing with AI: Unlock the Power of an AI Writing Generator!
10 Copywriting Strategies You Need Now To Increase Your Business
How To Write Magnetic Headlines That Sell Anything
The Best FREE Tools to Grow Your Blog Quickly
The Importance of Branding Your Small Business and Blog
This will help you with your time management and also your sanity.
Now once you're done with that part you can be creative and create 3 to 4 different pins to attract a wider audience. But the pins that are imbedded in your posts should have your unique 'branded' look to them.
My advice to you is to pick a Canva or another design program and create a template of several pins.
It literally takes a few minutes to change the text and you're on your way.
Here are 25 of the best sites for professional free stock images:
The Best FREE Stock Photo Sites for Your Blog
3) Not Building an Email List
This is a huge and common new blogger mistake and one that many still make.
I started growing my email list right away with MailChimp because it was free and because all the blogging pros said you absolutely must have an email list.
It felt strange because I had no subscribers. 6 months into blogging I still had no subscribers. I wasn't sure what I was doing wrong.
I had heard great things from other bloggers about Convertkit and even though they charged a somewhat higher monthly fee I decided to try it.
In one month my list grew by over 1,500 subscribers! Imagine if I had started email marketing from day 1? My list size could have been possibly well over 3500+ subscribers just 1 year into blogging.
A little over 3.5 years into blogging I now have over 20K email subscribers!
The ability to create attractive auto responders, landing pages and sequence forms in Convertkit has made all the difference in my sign ups.
I wish I had started sooner!
Related Posts
How 37 Bloggers Earn $2K – $1Million Per Month
Top Pro Email Marketing Tips For Beginners
10 Tactics To Create Your Ultimate Lead Magnet
4) Not Using Scheduling Tools
As a newbie blogger there is a steep and vast learning curve.
There is so much information to gobble down, break apart and put into use, but what's really important to know is that Pinterest is a vital for growing your traffic.
For a while I was happy just pinning away manually on Pinterest.
Whenever other bloggers spoke about Tailwind I just waited and put it on the backburner. Big blogger mistake that set me back months!
At the time I wasn't excited about learning about one more platform. I just wanted to dive in and write my posts!
But, as my blog grew larger and I had more followers, more posts, and more pins I found it very hard to keep up pinning manually so I finally forced myself to learn Tailwind.
The first time I implemented Tailwind I was amazed at the HUGE difference it made in my account. I grew from 2,000 impressions daily to over 7,000.
Tailwind enabled my blog to grow in ways I never could of done just by pinning manually. Even if I was a super pinning machine!
I now get over 600K viewers.
I joined influential tribes that re-shared my content and made it easy for me to share theirs, collaborate and boost my traffic.
But most of all I could finally pin, unlimited pins for everything for months in advance on Tailwind's automatic scheduler.
Read my post about all the benefits that Tailwind can provide for you and how much easier it can make your life as a blogger! It's definitely one of the 'must have's tools to put on your list.
10 Ways Tailwind Boosts Your Business
Definitely don't make this blogging no-no and avoid Tailwind like I did in the beginning.
5) Not Offering Free Opt Ins
As mentioned, it's vital to have an email service provider early on.
But what I didn't have was a free lead magnet or Opt-In to offer my blog readers as a way to entice them to sign up for my email list.
What was I thinking? That readers would just want to sign up and subscribe to me with no incentives whatsoever. Ah, NOPE.
This blogger mistake fails to account for the fact that readers are highly protective over their email addresses. Everyone's inboxes are overflowing with info these days. What you have to offer must to be extra special, different and worthwhile.
Remember, there are other bloggers out there offering courses and entire libraries of FREE resources, swipe files, check lists, PDFs and digital downloads chuck full of information.
Freebies are key to keeping your readers happy. Once your reader sees that you provide excellent FREE information, services or products only then you can lead into offering more items of value that are worth charging for.
Related Posts
10 Tactics To Create Your Ultimate Lead Magnet
12 Most Profitable Digital Products to Sell Online
How To Start a Money-Making Blog in 5 Simple Steps in 2023
Beginners Guide to Powerful Social Media Tactics
These opt-ins allow you to send freebies when people give you their email address. This lets you create attractive opt-in forms on your site and even landing pages to entice readers to sign up.
You can easily do this with a service like ConvertKit and I definitely recommend it.
An inexpensive service I recommend for selling Digital downloadable products is SendOwl. It's only $9 per month.
6) Ignoring Affiliate Links
Blogger mistake #6!
Some bloggers skip affiliate marketing altogether and I really don't understand it. Maybe it sounds like it's too hard or that it will be a waste of time, or that your followers just won't be interested or they don't want to appear spam like.
But let me tell you, if you skip over affiliate marketing you are totally leaving a ton of money behind.
And if you want to build a hugely profitable blog, like Pat Flynn or the Penny Hoarder or Shout Me Loud and many other highly profitable blogs, affiliate marketing is one of the easiest ways to go about doing that.
Affiliate marketing is an inexpensive way to earn money from your blog in the form of commissions. You don't have to create a product for yourself, and it doesn't cost your reader anything extra.
It's a win, win for you, your reader and the company you are promoting.
Here are some benefits of affiliate marketing:
You can earn passive income from writing your blog posts, while promoting products that you like and use
You can earn money potentially years down the road from it as long as you keep generating traffic
You are helping your readers find quality products that they will find useful
You can use social media to build your business with affiliate links as well as your blog
For more reasons why I think affiliate marketing is the #1 way to monetize your blog read these posts:
How I Earn $5,000 Monthly With Affiliate Marketing
How This Blogger Makes $150,000 per month with Affiliate Marketing
Don't make the mistake of leaving potentially hundreds of thousands of dollars on the table and skip over affiliate marketing!
7) Not Promoting Enough
For my weekly blogging schedule, I would write about 3 blog posts per week and promote about 2 hours' worth. When in all truth I should have been promoting two DAYS worth of all my content across the board.
The truth is I really enjoyed creating content and disliked promoting my content, but it was something I had to get over. After all, it is a huge part of treating your blog as a business.
If you want your blog to advance to the next level promotion is a must.
It's so important for the viability of your blog to get it out there on all those social channels as soon as possible.
Google will take much too long to index it organically.
Read the post below how to promote your blog for 47 super tips!
Related Posts
47 Proven Ways to Get More Website Traffic
This post gives you numerous ways to promote your blog posts other than just on social media.
It's so important to think of your goals.
What do you want to attain with your blog? You need to have a vision. You need to always remember the WHY of why you're blogging in the first place or you will lose your clarity along your way.
Keep your mission and your vision statement clear in your mind.
Set attainable goals. Remember your WHY, your WHAT you want to achieve, and your HOW to always keep moving ahead in your success.
Related Posts
The 9 Most Effective Online Tools for Content Creators
Top Ways to Promote Yourself as an Entrepreneur
Ultimate List Post to Promote Your Blog to Get More Traffic
Top Motivational Quotes When You Feel Like Quitting
This brings me to blogging mistake #8..
​8) Ignoring Guest Posting
Another very powerful way to get backlinks on your blog which is basically incoming links from other reputable sites back to your web page, is by guest posting.
This blogger mistake is typically not accomplished until one has accumulated some good solid content to share.
Related Posts
Why Your Blog Needs Guest Posts
How To Get More Backlinks to Rank Higher On Google
Backlinks are still a major metric for ranking high in Google and other top search engines.
However, don't make a typical SEO beginner mistake by trying to get backlinks from any old place on the web not pertaining to your niche.
This will discredit your site and possibly even award you with a penalty from Google. Huge bummer!
And whatever you do – don't buy links!
Intimidated by SEO? Don't be. Get our complete guide to unravel the mysteries of SEO and start driving more traffic to your blog with this:
9) Ignoring Blogger Burn Out Symptoms
Most people have no idea what it takes to be a blogger. Even with the popularity of blogging some don't even realize it exists.
If you've started a blog, you now realize what an all-consuming task it can be.
Therefore, it's so important to pace yourself. Especially if you have a full time or part time job, children, a family, responsibilities and are blogging on top of it all.
Even if you are fortunate enough to be blogging full time you can suffer from 'blogger burn out' big time.
Yes, blogger burnout is a very real and miserable thing. Especially if this is your one means of financial support.
I admit that in the early days I would find myself writing from 7:30am after dropping my daughter at school to after 10pm at night!
This type of schedule was needless to say not very healthy mentally or physically and I reached the point where I found myself completely devoid of all inspiration at times.
Fortunately I was able to fix that just by unplugging and taking a couple days off from blogging and detox your digital life.
Taking walks, having a conversation with someone, making time for enjoyable activities, even meditating will keep you in the right mindset.
Keeping a reasonable, consistent, sustainable schedule will help your blogging career. If you let yourself get burnt out too often that will just lead to your quitting and that's not what you started blogging for is it?
Related Posts
31 Days of Positive Actions for Entrepreneurs
13 Ways to Stay Focused and Productive While Working from Home
How to Turn Your Blog Posts Into Video In Less Than 5 Minutes
How To Optimize Your Blog for Voice Search
How to Get Blog Sponsorship and Nail the Pitch
10) Comparing Too Often
"Comparison is the thief of joy."
Comparing yourself can be good or bad depending upon your personality. For some people they thrive on the competition. For me not so much.
If this is you, don't go down the rabbit hole of comparison. It can be a huge blogger mistake and really halt progress.
Negative thinking only leads to paralysis and whole lot of wasted time. Everyone has a different approach, style and different things to offer on their blog.
Instead Read
How Resiliency Will Determine Your Success
Remember, everyone started as a beginner!
Instead of comparing yourself to the competition, think:
these bloggers have been blogging for much longer
these blogs are great and I can learn from them
my blog has valuable information
my blog will be beneficial to an audience one day
Don't let other's success block you from your potential greatness!
Bonus Blogging Mistake!
#11 Ignoring Your Analytics!
Your data feedback is the crystal ball vision that will tell you exactly what you need to be doing to effectively grow your blog and create more content geared especially for your audience.
Remember! Your blog posts should not be designed around what you want to write but what your audience wants and needs to hear!
Google Analytics, your social analytics or MonsterInsights can give you the means to determine exactly what that is.
I love MonsterInsights because it shows me everything from where and when my audience is visiting from, to the top performing posts, my overall traffic, most popular affiliate links/banners, ad referrals and so much more! Right from my WordPress dashboard.
Read how easy it is to get and set up real time analytics with no coding for free in this post.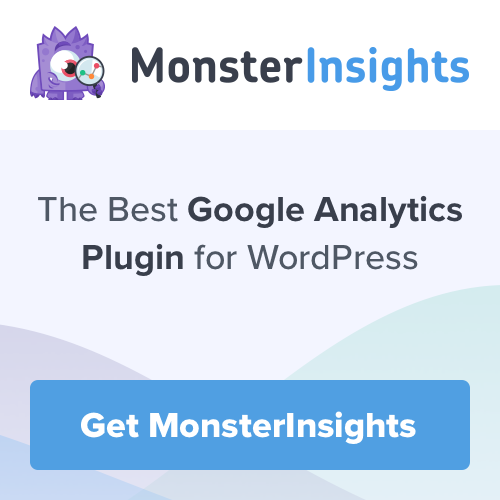 Conclusion
Now that you're aware of common beginner blogging mistakes, get out there and make some changes! You can skyrocket your blog or online business with these tactics and many more! There's an audience just for you that's waiting to hear your special voice and what you have to share!
Follow me on social, sign up for my weekly tips, and get the ultimate ways to drive an avalanche of traffic to your business and ways to build a more profitable business online!