Last Updated 5 months by Emily Standley-Allard
Are you a small business owner or entrepreneur who is unsure about your website's functionality, appearance and performance? After all your website should be your number one marketing asset to convert your visitors into potential customers.  Any small business or new blogger's first goal is to have a website that is optimized properly. Your website should be a goldmine to you that performs the work of another member of your sales team. Below are the 11 website essentials you can't afford to ignore in 2023. These elements your website or blog must have in order to provide you and your business with the most traffic and a significant return on investment.
This post may contain affiliate links. If you choose to make a purchase it will be of no additional cost to you. Please read my disclosure for more information and we thank you.
With so much competition out there, your clients are searching for you, but they don't want to look too hard. If you're not showing up on the first page in the first five sections on page one, let's face it! You pretty much don't exist. 
Promote Your Business! Get Access to Over 600,000 Potential Clients
Website Essentials Your Website Needs to Convert
The following tips are vital for making your website perform, convert visitors and stand out from the competition. If you want to see more traffic, leads, prospects, and conversions from your website then read on.
After all, small business websites are the bread and butter for the budding entrepreneur. Your site has to do it all:
represent your business
capture leads
close sales
climb to the top of Google
connect with all your other digital platforms
*Update! At the bottom of this post is a link to an overlooked necessity a lot of bloggers don't think of. That is the legal aspects of having a website, blog or online business.
Related
Understanding The Business and Legal Side of Blogging
With these affordable legal templates created by an attorney you can ensure that your blog is compliant with the law and covered in case of any violations you may not even be aware of.
Always better to be safe than sorry, and definitely worth the peace of mind!
Why Invest in a Website?
These days you simply cannot afford not to. Your business needs to be online 24/7/365 and prospective clients will use it to assess your business' credibility more than any other piece of content out there.
A great website helps you to book clients, and get a high ROI, where a poorly designed website will actually wind up costing you.
The costs of websites vary:
A customized website from a marketing firm runs: $1,500 – $10,000
A WordPress Site – $150 – $500 (not including cost of a web developer to manage tweaks if you're not technical)
Bluechic – You can create stunning websites or landing pages in minutes for $149 and less. Create customized pages suited for your audience and brand.
Or use a drag and drop template website software like Webflow which starts at $16 per month for its paid plan.
11 Website Essentials for Your New Website
Website Essentials #1 – Consistent & Professional Branding
When people see your website, does it look consistent and cohesive with your social media branding? Or are the messages conflicting?
Your website and social media should have consistent branding across all platforms. Don't confuse your audience. Be clear. Consistency is the key here and it needs to look professional.
You don't have to spend a lot of money, but an amateur looking website will not attract the right kinds of clients. First impressions are extremely important.
Your website after all is your online STOREFRONT.
Make sure your branding represents your products and services accurately.
This post can help:
The Importance of Branding Your Small Business and Blog
Website Essentials – Keep It Simple
Too many page elements lead to confusion. Sometimes less is more.
Simple design and text are essential to a small business website. Uncluttered visuals, lots of white space and text have the most impact on an audience.
While you may prefer a rainbow of colors, two or three colors for your branding is really all you need.
A Word About DIY Websites
It's easier today than ever before to create your own vision and design with a DIY Website.
There are numerous companies that provide inexpensive and stunning websites with numerous designs and themes to choose from that look extremely professional like Bluchic, Webflow, Wix, Squarespace or Weebly.
WordPress.org offers thousands of themes and plugins which is perfect for bloggers and website owners of all types of businesses.
It's important to make sure you know the difference between wordpress.com and wordpress.org. 
WordPress.com is where you can get a free blog. You don't need to pay for hosting or a domain or plugins because you aren't allowed to have any. This is a major downside and why most bloggers use wordpress.org.
You don't need to worry about editing the back end of the site – because it's just not possible. With this free hosted solution, you get the power of WordPress but without the ability to customize or monetize it!
So, unless you're just looking for a place to write a personal blog or journal then wordpress.org is the way to go!
With WordPress.org you can download free software to install on your own site. Because it is on your own server, you can use various plugins and edit the theme anytime you want.
You basically have full control and access over the theme look and feel as well as the ability to use advanced features through plug-ins.
For most people who are looking to make money online, you'll want to have access to more customization and plug-in features with WordPress.org.
Website Essentials #2 – White Hat SEO (Search Engine Optimization)
Never underestimate the power of good SEO. With SEO you are making sure your website will show up in the organic searches.
This takes some time and you need to think of it as a marathon rather than a race.
You are competing with other websites for the same key phrases users enter and your ultimate goal is to be at the top of those results when searched by your target market.
Google has over 200 ranking factors that it takes into consideration when ranking websites – and they make up to 1 algorithm change per day! – According to Neilpatel.com
White hat SEO refers to the usage of optimization strategies, techniques, and tactics that focus on a human audience opposed to search engines and completely follows search engine rules and policies.
For example, a website that is optimized for search engines, yet focuses on relevancy and organic ranking is considered to be optimized using White Hat SEO practices.
White Hat SEO techniques including using keywords and keyword analysis, backlinking, link building to improve link popularity, and writing content for human readers.
Remember, humans can 'read' and interpret images, but search engines cannot.
All images on your site need to be labeled appropriately with 'alt tags' (descriptions) for search bots to read them and index them correctly or they won't know what they're about.
Many people lack understanding of SEO even though it's extremely important. You're competing with many other websites.
If you don't have good white hat SEO, then no matter how good the content your website contains, your audience won't be able to find you.
A course I developed below can help you master SEO without losing your mind!
Related 
How to Become the Ultimate SEO Boss
How to Make Money Online Without a Website
Is Your Blog and Website Legal? How to Make Certain
Why On Page SEO is Crucial and How to Improve it
How to Build a Professional Website with NO Coding
Look at essentials in onsite SEO like having your keyphrase targets in things like the title tags, meta data and the url. A great example is if you're selling a book.
Many people will list the url pertaining to their book as http://www.example.com/book
What you should do is have a url like this: http://www.example.com/title-of-book. The title will likely be intuitively connected to your content with good keyphrases in it and Google will be able to read that.
Make certain you do proper keyword research.
This is vital in understanding what keywords people are searching for.
You want to make sure you have a keyword tool that can offer insight into thousands of keywords but be easy to use. I use the Jaaxy keyword tool for this which was created just for internet marketers.
Jaaxy is simple and can whip up keywords with a high search rate but low competition.
As mentioned previously you need to definitely add the keywords you want to rank for to elements like image naming and alt tags too.
Make sure you have your desired key phrases set and then include them in the onsite copy. All of this is the set up for SEO so Google knows what you want to rank for.
Need more help with SEO?
5 Niche Blogging Strategies to Help Your SEO
Website Essentials #3 – Responsive Functions
A responsive website means your site will be Mobile friendly and display well on phones and all smaller screens. 80% of consumers search on their phones! Years ago websites only had to display well on desktop computers.
Now that over 2/3 of the population does business on their Smart Phones, it's absolutely crucial to have a website that can display well on one.
With responsive design your website will change its display while maintaining the same information, making it easily usable on a cell phone.
Google places a whole lot of importance on mobile usability so you need to build a responsive website if you don't have one already. There are plenty of mobile plug-in options available.
Google has a Mobile Friendly Test you can take to make sure your site is mobile friendly.
Check the Speed of Your Website
Another very important thing to note is the speed of your website!
Here's a free tool you can use to check the speed of your site.
This post can help you increase the speed without the use of additional plugins – which may slow down your site!
How to Increase the Speed of Your Website Without Plugins
After you've run the website speed test, you might be wondering what else you can do to speed up your WordPress website.
Here are a few suggestions for you:
Switch to a Faster Host
No matter what else you do, it won't make a difference if your web host if slow. So make sure you choose one that's super speedy!
Make sure your theme and plugins are fast
Poorly coded themes and plugins can slow your site down big time, so make sure you're using only the best WordPress plugins and themes.
Keep your site updated.
Don't ignore those notices to update your plugins and themes. They're important!
Use a caching plugin.
Caching plugins like WP Rocket or W3 Total Cache save a copy of your website to show to visitors so it doesn't have to generate the code every time. This can give your site speed a big boost.
Optimize all your images.
Images are usually the biggest files on a web page, so they can slow downloading times if you're using a lot of them. Make sure to optimize them with your image editing software before uploading to your site.
The Best WordPress Caching Plugins to Speed Up Your Website
Website Essentials #4 – Email List and Follow Up
List building or an email list is necessary to put in place because if a user comes to your website for the first time, there is a small chance they'll convert right away.
The odds are slightly better if you offer something in the way of an e-commerce website provided you offer products or retail goods.
Because users are more likely to convert after their first visit, you want to give them a way to find their way back.
Webflow is a perfect example of a company that has created everything an online business owner needs to quickly build and create a fully functional e-commerce store and it's one of the easiest ones to set up.
With Webflow you take turn your product pages into Winning profitable sales pages.
Skyrocket your conversions with killer product sales pages. Best of all? You can get started for FREE!
Even if you don't have any products to sell an email newsletter subscription is a great way to build your list.
To build an email list try offering something for free like a download or an opt-in of a free how-to guide, a resource library, free printables, an eBook, eCourse, PDF or informative guide that requires the user to enter their email address in order to receive it.
Other options include a free video series, a coaching or consulting session, webinars, a membership, templates, a PDF report, swipe files or printables.
The message is to provide excellent value in exchange for the user committing to giving you, their email.
Make certain you stay in touch with your list to cultivate the know, like and trust factor with this, providing them good reasons to come back to you.
Website Essentials #5 – Have a Solid Marketing Message
A lot of entrepreneurs make their website all about them. 'I do this' 'this is me' 'this is what I do'.
Unfortunately for a user, this can leave them asking: what about me? A website has to reassure a visitor they've arrived in the right place.
Your message should clearly state what problems you solve and that you are there to help. Use terms like "You" and "Your" rather than "Me" or "I".
A popular acronym to keep in mind is: WIIFM   – What's in it for me – when it comes to thinking about your prospect or customer to be. 
Hiring a professional copywriter is a great idea because they understand the intentions of the visitor's needs coming first and can make what you do exciting, which helps convert them into a paying customer.
Creating excitement online these days isn't so easy to do, so hiring a talented copywriter is absolutely essential to make sure you get your website visitors excited about you and what you provide above your competition.
Website Essentials #6- Easy Ways to Contact You
Make the process of contacting you as easy as possible. With our attention spans less than a goldfish no one has the patience to go looking.
If you have an online business or store you need a customer service phone number prominently displayed. It's normally placed in the top right side of the page.
Even if you don't have a store, you may be providing a service or consultation.
A "Buy Now"  "Free Consultation Now" "Learn More Now" button, reassures the user there is a someone or (something) behind the scenes in case they want or need further help and assistance.
This is why Live Chat has become so popular because as we all know there's nothing more frustrating than not being able to get in touch with someone at 2am even if they are a robot!
Start chatting with your prospects in real time to convert more leads, close more deals, and provide better real-time support.
Establishing Trust through Your Website
Establishing trust is key to obtaining and keeping more readers and prospects on your site.
Providing multiple ways for them to contact you if necessary is essential to establishing good business.  You will get more site visitors to commit to you and your business once trust is established.
How to Build Trust with Your Online Readers
Many entrepreneurs are worried about having their phone number out there but at the end of the day you need one so whatever you can do to provide one is a must.
If you don't have the staff to manage calls yourself as mentioned there is Live Chat as mentioned, or virtual call centers out there who do an excellent job of having friendly, live people taking your messages for you.
Always have a good contact form and direct messaging option on your Facebook page or social platforms. 
This and a phone number or social share buttons are essential to establishing a positive connection with your potential clients.
Website Essentials #7 – Have a clear CTA (Call to Action) that leads users towards their destination.
If your conversion is qualified by a contact, then lead users on each page towards the contact page. Use buttons, social messaging and text telling them to click and easily get in touch with you.
If your social media efforts aren't bringing you the results you need perhaps you need a Social Media Audit to reveal where the gaps are between your success and where you need to be.
Get in touch with us today to schedule a complete website digital competitor analysis to bridge the gaps between your success and where you need to be.
There are many other factors which play into building a successful online business, but these essential website tips will help you bring in traffic, engage visitors and spread the word about your business or blog.
BONUS Website Essentials – Is Your Blog/Website Legal?
Everyone doing business online needs to make certain that their blog and website is legal. The last thing you want is to be violating any laws from the FTC or heaven forbid faced with a suit for using an image you shouldn't of.
Even if you're not writing about sensitive topics like medical, financial or legal issues you still need to have certain policies on your blog like Terms and Conditions, Privacy policies, GDPR information, disclaimers and others.
You can get an affordable legal bundle trusted by thousands of bloggers and entrepreneurs created by a lawyer here to make sure you are complying with all the laws. It's simple and one less thing you don't have to worry about!
BONUS Website Essentials – Know the Difference Between http vs https
Do you know why some websites start with http and others with https? The 's' stands for 'secure'. So, the https version is the secure version according to Ahrefs.
Due to data breaches nowadays, you definitely want a secure website.
It's also good for organic search too. Google states that switching your business to https:// gives you some points for ranking higher.
What's the process for switching to HTTPS?
If you are familiar with the backend of a website, then switching to HTTPS is fairly straightforward in practice. The basic steps are as follows.
Purchase an SSL certificate and a dedicated IP address from your hosting company.
Install and configure the SSL certificate.
Perform a full back-up of your site in case you need to revert back.
Configure any hard internal links within your website, from HTTP to HTTPS.
Update any code libraries, such as JavaScript, Ajax and any third-party plugins.
Redirect any external links you control to HTTPS, such as directory listings.
Update htaccess applications, such as Apache Web Server, LiteSpeed, NGinx Config and your internet services manager function (such as Windows Web Server), to redirect HTTP traffic to HTTPS.
If you are using a content delivery network (CDN), update your CDN's SSL settings.
Implement 301 redirects on a page-by-page basis.
Update any links you use in marketing automation tools, such as email links.
Update any landing pages and paid search links.
Set up an HTTPS site in Google Search Console and Google Analytics.
In terms of the setup of the SSL certificate simply contact your hosting company and they can easily help you.
Bonus Website Essentials – Analytics!
See Exactly How People Find & Use Your Website
This is so incredibly important! You need to see what's working on your website and what's not!
Accurate analytics shows you exactly how people find your website, which keywords did they search for, who referred them, what did they click on your site, and more.
I use MonsterInsights to uncover low-hanging fruit, discover new partnership opportunities, and the right areas to focus on!
After all, you can't go guessing in the dark! It gives you all the information directly from your WordPress dashboard, so you don't have to go elsewhere.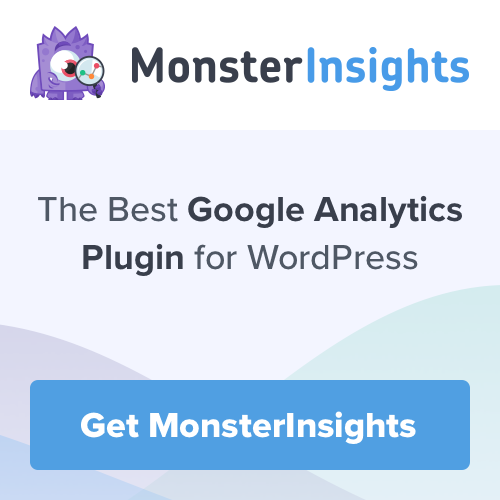 Website Essentials Conclusion
It doesn't take much to create a high converting website these days that doesn't require any tech or coding skills.
Start with a good strategy, keep your design simple and easy to navigate, work on proper SEO, and create fresh and relevant content and your leads and customers will find you and stick with you!
The folks at Bluchic have everything you need to get started creating stunning webpages, funnels and landing pages quickly and easily.
Related Articles
How to Create Irresistible Landing Pages
How to Create Your Own App in Minutes!
The Simple Way to Create Marketing Videos
How to Create a Profitable Website You Can Sell for 50K
How to Find a Profitable Niche for Your Online Business
How to Promote Your Blog to Get More Traffic
Sign up for winning ways to create the online business of your dreams and have the flexible and lucrative career you need!