Last Updated 8 months by Emily Standley-Allard
Plagiarism is not something anyone likes to think of in the blogging world. Unfortunately it can happen. Plagiarism is also referred to as theft of intellectual property is using someone else's genuine work and using it for your purposes. Intellectual property could include anything like blog posts related to marketing and business, designs, proprietary information, research work, or anything that someone else has composed for academic or educational purposes. Plagiarism is not appreciated nor accepted by any institute or organization. If you have a company that outsources writers it's important to make sure that the work you publish is plagiarism free so you don't get caught up in a legal mess.
This post contains affiliate links. If you make a purchase we will earn a commission at no additional cost to you and we thank you. Please read our disclosure for more information.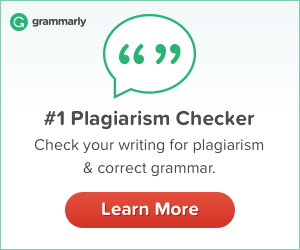 The Consequences of Plagiarism
A person who copies another's work could end up suffering harsh consequences because of the act. For Educational institutions, it is considered as academic misconduct and for others, it's a breach of ethics. So whenever you are composing a document for publication you need to make sure that your work is completely genuine and authentic.
Plagiarism checkers are tools that can assist you for this purpose. They are designed to perform a scan on the inserted document and compare it with other sources available to them. Sources can be in the form of online websites or it can be research papers and other material. Its algorithm performs a deep scan and generates a report.
Once, the scan is successfully carried out the results are displayed with all the plagiarized content highlighted and sources mentioned with it. A similarity report is also created which an outcome of evaluation among the submitted content in contradiction to the search objectives chosen for the assignment.
Unlike grammar and punctuation check, scanning text for plagiarism can be a complicated task. It is because of the nature of the task and the comprehensive algorithm that needs to be developed. If the algorithm is neither efficient nor detailed as to search from several sources, the report produced cannot be relied upon.
Several sites and sources offer a free plagiarism tool online. It can be a difficult task due to the complexity of the task as described above.
This article will help you decide which plagiarism checker you can use efficiently to obtain dependable results.
Prepostseo
Prepostseo.com is considered an ultimate companion by writers who write marketing blog posts. It is because the site presents its users with the benefit of using 95+ tools all of which are highly beneficial for writing.
Its plagiarism checker allows you to check plagiarism online without any cost. The tool is efficiently being used by teachers, writers, and students along with another category of people who intend on authenticating their work.
Some of its features include: –
Safe Scans
The tool now only allows its users to check plagiarism for free but additionally, it ensures that their content would remain private and secure. It won't be saved on the search engine or used anywhere without the writer's consent.
Text Evaluation
The Pre Post SEO allows its user to compare their text with the sources in case plagiarism is detected in them. The sentences can be compared with the sources. This feature enhances the reliability of the Plagiarism checker.
Detailed Analysis and report
Once the scan is completed, the report generated is extremely detailed. The copied area after the scan is highlighted for easy demonstration. Furthermore, the report can be downloaded in HTML or PDF formats if required.
Related Posts
The Ultimate Guide to SEO Copywriting for Affiliate Marketing
How Ecommerce Copywriting Will Boost Your Sales
10 Copywriting Strategies You Need Now To Increase Your Business
How to Get More Backlinks to Rank Higher On Google
Understanding The Business and Legal Side of Blogging
Why Your Blog Needs Guest Posts
How to Start Your Epic Career as a Freelance Writer
Get Paid to Write – Over 100 Sites That Pay Bloggers Extremely Well
Uploading Content
Uploading content in the search engine is an extremely straightforward task. The tool allows its users to upload the file in different formats like txt, pdf, doc, and docx. You can also upload your content by simply copying it from the source and pasting it in the search engine.
The results are displayed within minutes depending on the volume of your content. However, the report generated has a high degree of reliability making the Pre Post SEO one of the best tools to check plagiarism online without any cost involved.
PlagScan
Another site that offers a brilliant tool to check plagiarism is PlagScan. Though the tool requires a premium membership for continuous use the first few scans are entirely free.
The tool is an exceptional choice if you have to scan files occasionally. However, if you need a tool that could serve you daily then you would have to purchase the PlagScan premium tool to have access to it.
Its features include:-
Information Security
PlagScan makes it certain the security of the user's content is their top priority which would not be compromised under any circumstances. The material uploaded remains for plagiarism check and not for anything else.
Produced Report
The report produced by PlagScan is flexible according to your requirements. The created report can be downloaded in PDF version or used in collaboration with any browser; the tool can carry that out for its users as well.
Scrutiny of sources
A source list is mentioned in the final results. The list contains all the sources categorized in such an order as to specify their source. All the sources are provided next to the text from which it was copied.
Multiple Color shades
The report comprises of all the plagiarized text marked in different colors. The variations of colors show the multiple sources that it might have been copied from.
Writix
The tool provided by Writix to check plagiarisms is ideally designed for university students though it can also be used by other categories of writers as well. It is one of the most commonly used tools by students.
Apart from being entirely free of cost, the Writix plagiarism checker maintains a high-reliability level. Its users were highly satisfied by its functionality and produced results.
Its most famous features include:-
Choosing the paper category
Perhaps one of the best features offered by the tool is giving its users the option to choose the type of paper they would like to search for. This gives the tool a lot of versatility. Some of the choices it gives users are essays, resume, website content, and others. The user can choose the one according to its requirements.
Exhaustive assessment
After the thorough scanning of the content, the reports are produced with the plagiarized text highlighted. The sources are provided after it to avoid any citation errors that may arise.
Access to an internal database
The Writix plagiarism checker claims to have access to a certain database that is not commonly revealed to the general public. This enhances its reliability making it the problem solver for several students.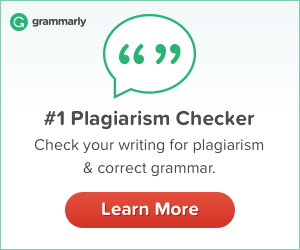 Grammarly's plagiarism checker can detect plagiarism from billions of web pages as well as from ProQuest's academic databases. Their free plagiarism check will tell you whether or not your text contains duplicate content. Their Premium plagiarism check highlights passages that require citations and gives you the resources you need to properly credit your sources.
Conclusion
Much of plagiarism can be avoided. Simply getting permission from the original author or citing where you received information is usually enough to prevent plagiarism. But make no mistake plagiarism is an act of fraud and you don't want to compromise the state of your business or blog by committing it. Use these great tools instead and keep your work authentic.
author: Millie Oscar
Bio: Millie Oscar writes SEO articles and her articles have appeared in a number of sites, including EzineArticles.com, ArticlesBase.com, HubPages.com, and TRCB.com. Her articles focus on balancing information with SEO needs–but never at the expense of providing an entertaining read.
Want to learn how to start your own successful online business today? There's no better time than now!