Last Updated 7 months by Emily Standley-Allard
How do you determine what type of content to create for your audience? As a blogger or business owner you know analytics are crucial. Basing your strategy on data is the most effective way to grow your site. With Google Analytics real-time reports, you can see how many people are active on your site right now, what articles they're most interested in, where are they from, and lots more.
Viewing these stats from your WordPress dashboard makes things even simpler. This is where a plugin like MonsterInsights can help you out.
In this post, we'll show you how to setup a real-time Google Analytics stats dashboard in WordPress with MonsterInsights.
This post contains affiliate links. If you make a purchase, we will make a small commission with no additional cost to you and we thank you. Please read our disclosure for more information.
Benefits of Using a Google Analytics Plugin
Before we begin here are a few of the benefits you can get by using a Google Analytics plugin and getting real time reports and insights about your users:
In our opinion (we are not getting compensated for this post) MonsterInsights is the best WordPress Analytics plugin.
Get it for free here!
If you've logged into the Google Analytics dashboard before you know it's a highly recommended tool with lots of data to view. However, it can be totally overwhelming for most beginners.
However, if you're not a GA expert it can be very difficult to understand where to start, and how to best put all that data to use.
For most business users, you need a tool that will show you the data you're seeking at a glance in an easy-to-understand format.
A great analytics insights tool will help you how to:
Track Campaign Performance: You can see how your marketing campaigns are performing in real-time by looking at active users and where they're coming from
Find Best Time to Publish Your Blog Posts: By tracking how many people are currently on your site at a given time, you can find out the best time to publish your content
Track Top Referral Traffic Sources: You can track which referral source is sending the most traffic to your website right now and which isn't
Identify Top Traffic Countries and Cities: Real-time reports help you see which country or city your visitors are from, so you can create region-specific marketing campaigns
A plugin like MonsterInsights gives you all of this without having to leave your dashboard or place or edit any code on your WordPress site.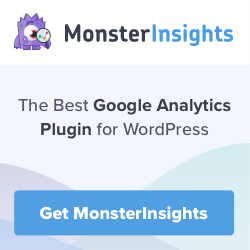 A Tiny History Behind MonsterInsights
MonsterInsights (originally called Google Analytics by Yoast) was originally developed by Joost de Valk, who may sound familiar because he developed the popular Yoast SEO plugin.
As Yoast grew, they decided to focus mainly on SEO and the Google Analytics by Yoast plugin was taken over by Syed Balkhi and rebranded as MonsterInsights. The talented team of Syed and company is also behind the very helpful blogger products such as; WPBeginner, OptinMonster and WPForms.
If you're starting a business online these are true gems to get your business off the ground!
How to View Google Analytics Real-Time Stats in WordPress
To see real times stats in your WordPress dashboard, simply install and activate MonsterInsights on your WordPress website.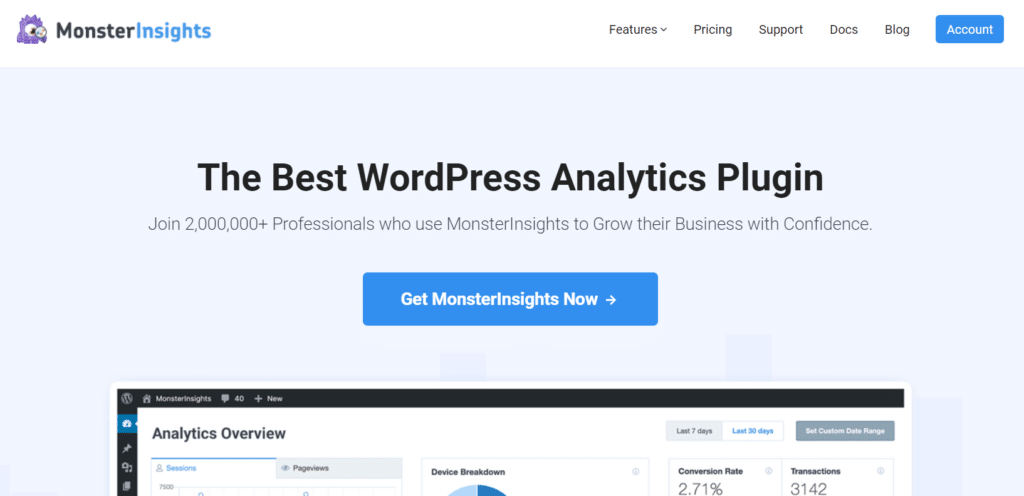 You can use it to properly set up Google Analytics on your website, all without any coding.
With MonsterInsights, you can enable advanced tracking with a click of a button. For instance, you can track your…
Ecommerce store's performance
Form conversions
Cross-device tracking
Cross-domain tracking
Bounce rate
Page views, sessions
Ads tracking
File download tracking
Custom dimensions (track authors, categories, tags, searches, logged in users)
Google AMP tracking
FB Articles tracking
Conduct A/B tests
EU compliance
… and more
Step 1: Signup and Download MonsterInsights WordPress Plugin
The first thing you'll need to do is signup for MonsterInsights. There is a basic free plan but real-time reports are available in MonsterInsights Plus and higher plans.
Once you've signed up, you can download the plugin from the member's area. Just log in and go to the Downloads area. Next, click on Download MonsterInsights and save the ZIP file on your PC.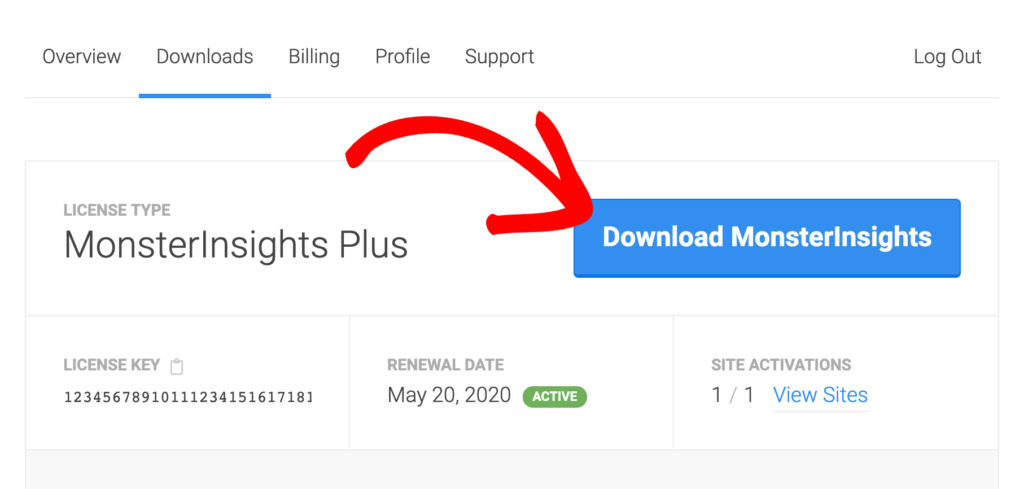 Step 2: Upload and Install MonsterInsights Plugin on Your WordPress Site
Now go back to your WordPress dashboard and go to Plugins » Add New and then click on Upload Plugin at the top.
Then click on Choose File and navigate to where you saved the ZIP file in the previous step and select it.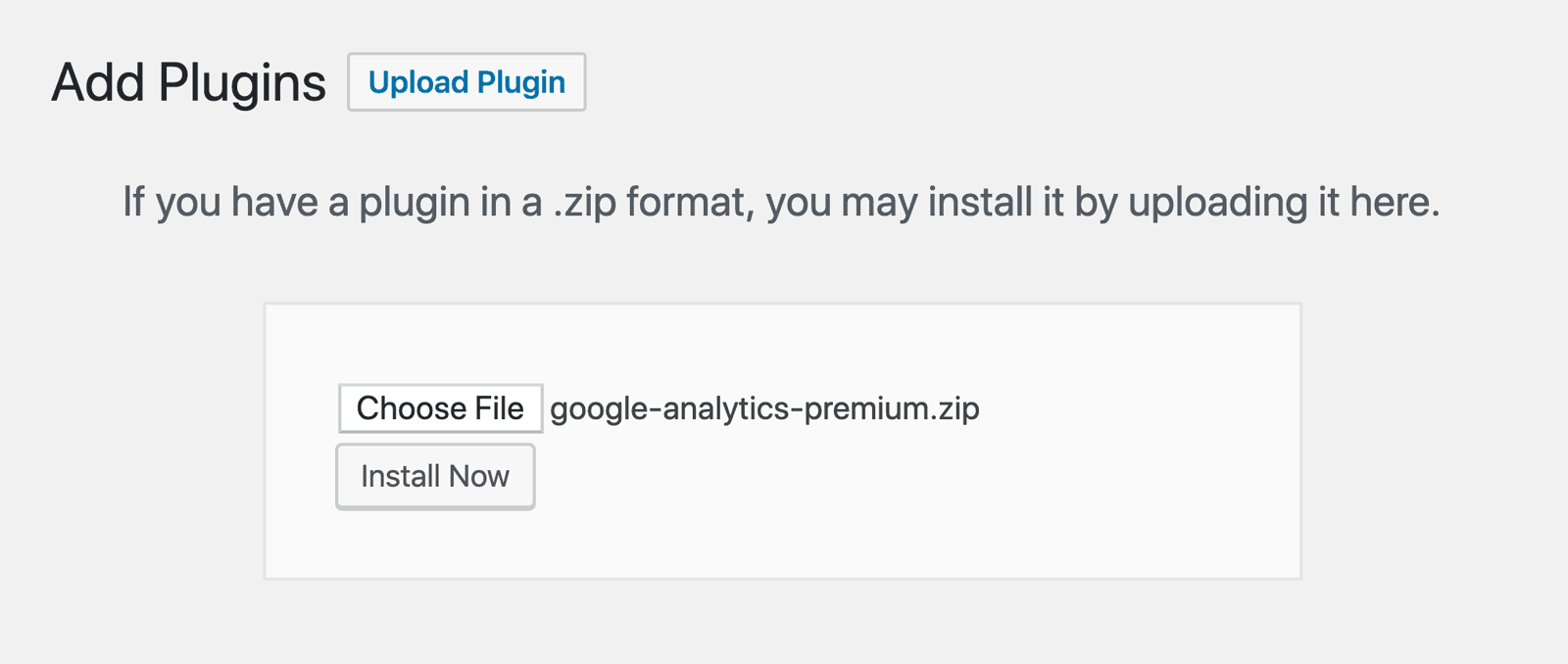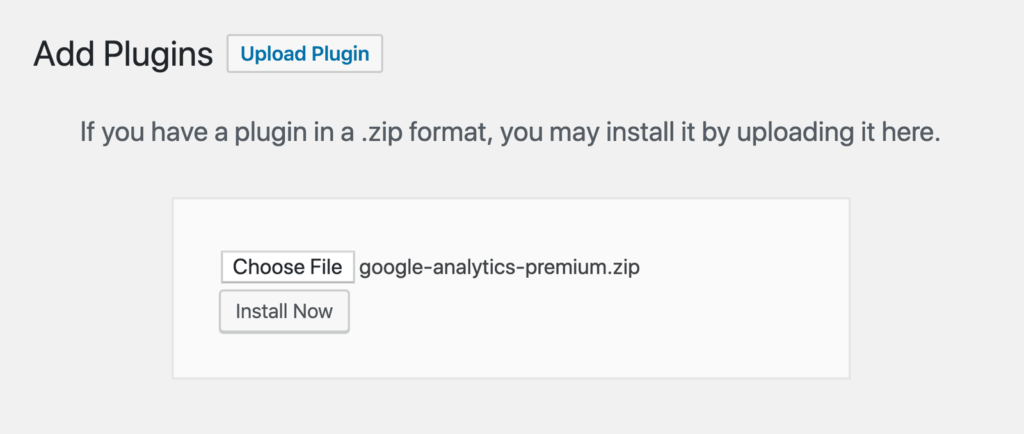 Once the plugin uploads, click on Install Now. You'll also have to activate the plugin after it's successfully installed.


You can now see MonsterInsights in your WordPress dashboard under Insights.
Step 3: Enter License Key and Follow the Wizard
Now that MonsterInsights is installed and activated on your website, you'll have to enter the license key to use the plugin.
You can find the license key in your My Account area under Downloads. Copy the key.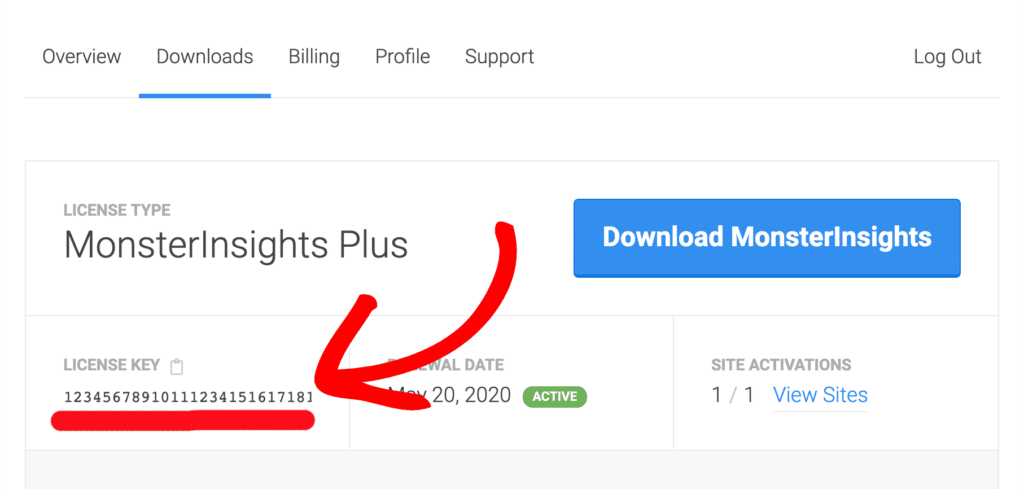 Next, go to Insights » Settings » General, then enter the license key and click Verify.
Once the verification is complete, click on Connect MonsterInsights.
The setup wizard guides you automatically to connect your Google Analytics account with your WordPress website.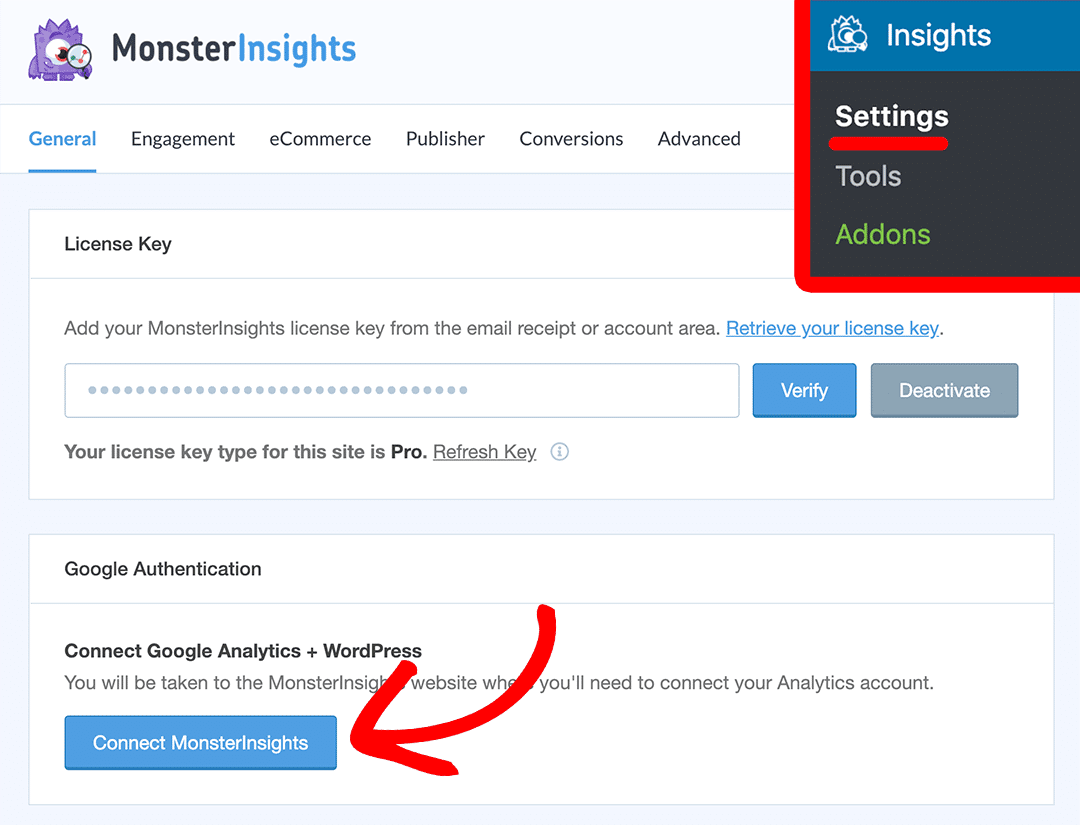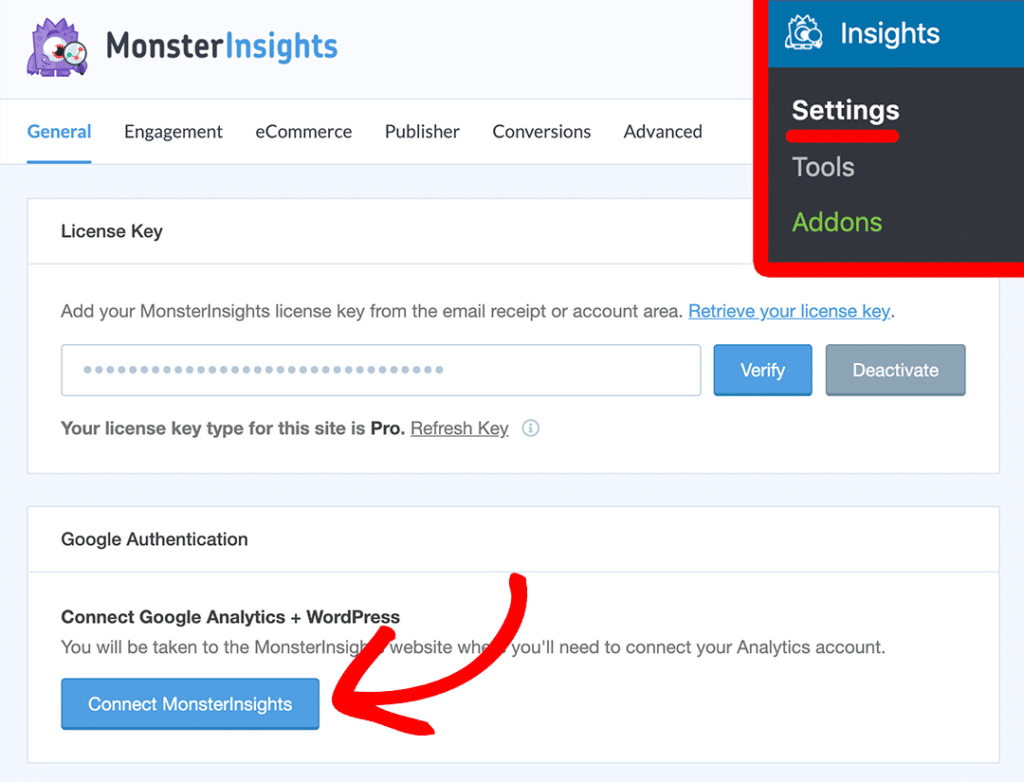 Step 4: View Real-Time Google Analytics Reports in WordPress
After setting up MonsterInsights on your website, you can now view Google Analytics real-time stats in your dashboard.
And to do that, go to Insights » Reports » Real-Time.
The first report you'll see will be of Active users on site right now along with Pageviews Per Minute in the last 30 minutes.
Set up Google Analytics 4 for your website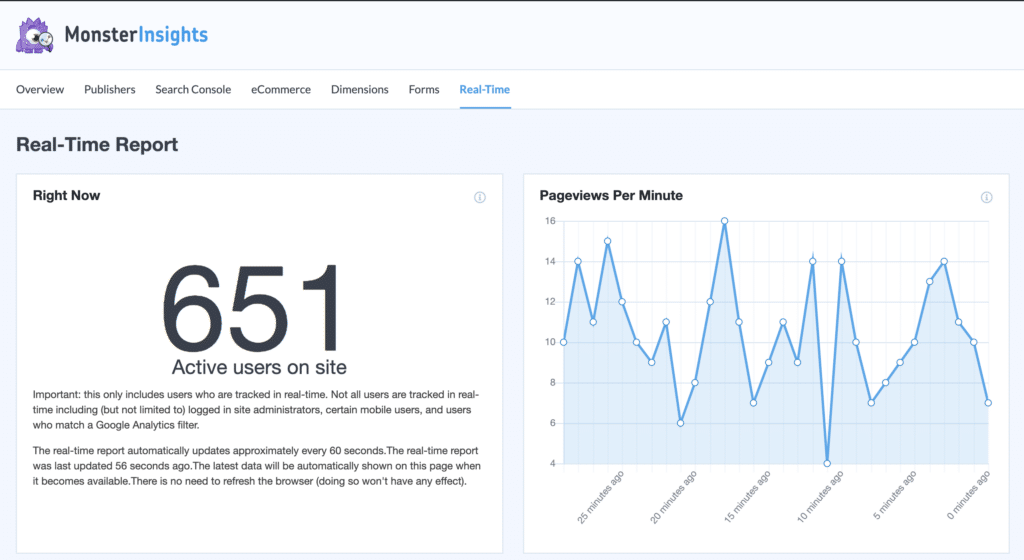 And if you scroll down, the next real-time report is of Top Pages. You can see the pageview count and percent of total pageviews for each post.
This helps you see how your pages are performing at that very instance and many people are visiting it.
You can also view see how much traffic different referral sources are driving in real-time using the Top Referral Traffic Source report.
It shows the source name, its URL path, campaign name, count, and percent. This report is extremely useful if you've just launched a new campaign and want to see how your marketing efforts are performing.
You can track each source you used for promotion and see which is attracting the most visitors.

And the last real-time stats you can see in WordPress is of Top Countries and Top Cities. This report shows you where your visitors are coming from.
You can view their country, city, state/region, and count. The data from this report provide insights for creating region-specific content and also when to publish it.
For instance, you can see that people from India or South Africa are visiting your site right now. so, you can create content for visitors from India and South Africa and publish it at this time in the future for maximum engagement.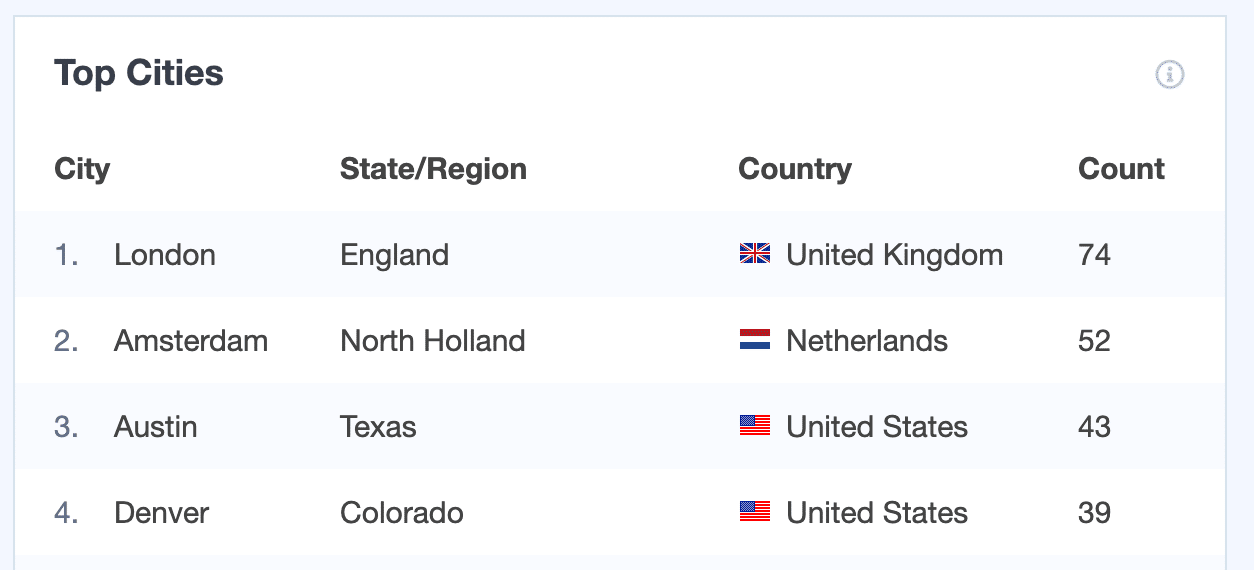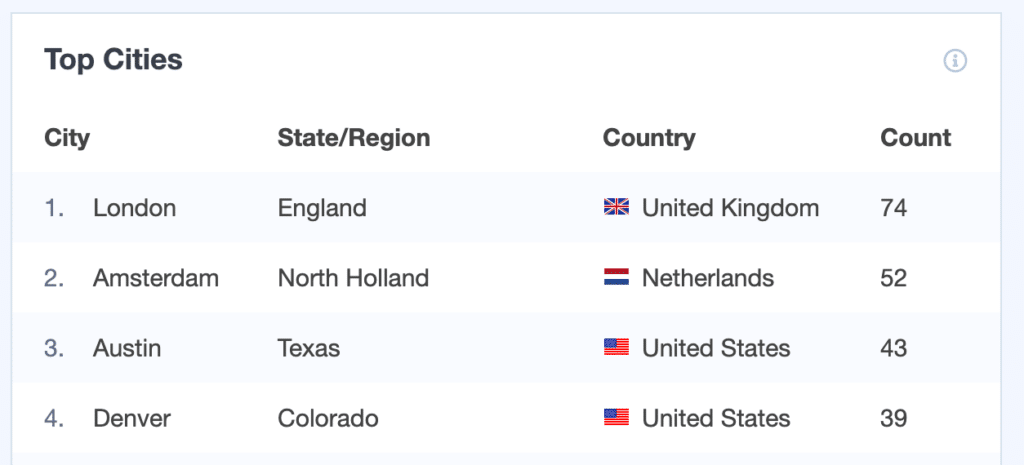 How does MonsterInsights Fare Against the Competition?
After doing a search for tracking and analytics plugins in the WordPress repository there's no doubt you will find a ton.
Here are a few things we've found;
User experience sets MonsterInsights apart. The fact that it is so darn simple to set up makes it superior. No need to touch or install any code. Just point and click and follow the wizard.
You get all the tracking features you need in a single product. Whether you're a blogger, business owner or an ecommerce store owner MonsterInsights will give you the analytics you are seeking.
If you have a WooCommerce store there are analytics specific plugins that go along with that. However they are limiting. For instance they don't let you track optin form submissions, download tracking and other events you may find useful for gaining more customers.
It is the most popular Google Analytics plugin! MonsterInsights has over 15 million downloads which speaks for itself!
You don't need to connect another account. Don't we already have enough accounts?
It's best suited for any size website and budget. There's a free lite version, a premium version and a pro version. You can try out the lite version first for free.
The MonsterInsights website has all the tutorials you need to set it up and fix any type of issues that may arise immediately. For the Pro version there is highly-rated personalized support.
I give it 5 out of 5 stars!!
Conclusion
There you have it!
You can now see real-time data of your website inside the WordPress dashboard and you don't even have to leave your site. Simply measure the performance of your campaigns in an instant and make changes on the go.
We hope you liked this post on how to setup a real-time Google Analytics stats dashboard in WordPress. You can get 50% by clicking on the banner but only for a limited time! It's well worth it!
And don't forget to subscribe to our newsletter and follow us on Facebook for more ways to grow your traffic, make more profits and build a better business online!
Related Posts
Prepping for the End of 3rd Party Cookies
How to Get More Traffic With a Content Gap Analysis
How to Sell Digital Products From Your Blog with WooCommerce
11 Website Essentials You Can't Afford to Ignore
5 Niche Blogging Strategies to Help Your SEO
Ultimate SEO Strategy Guide for Bloggers
How to Get More Backlinks to Rank Higher On Google